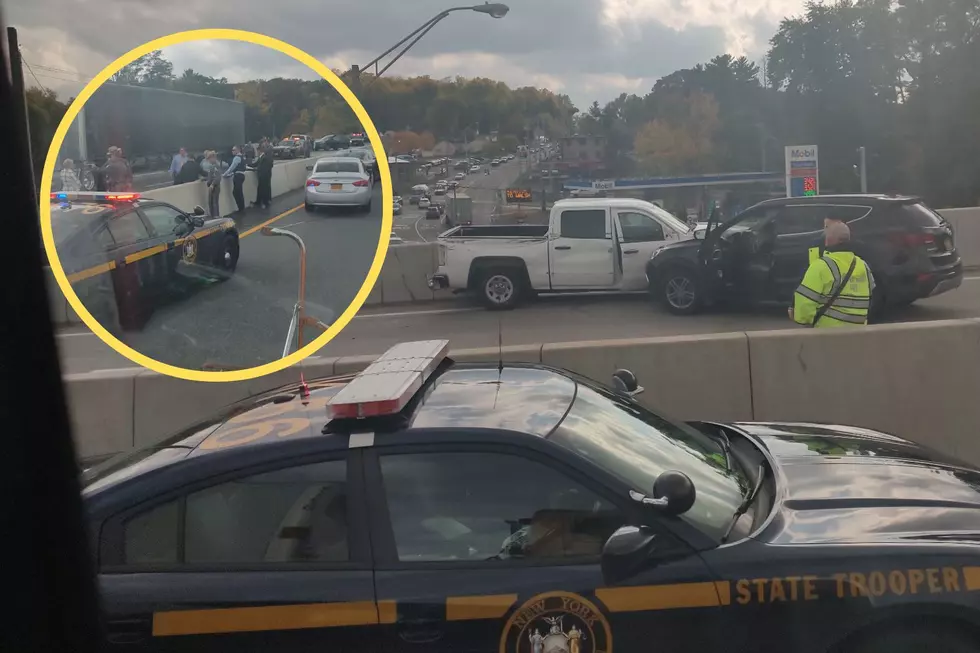 New Photos from Attempted Murder Suspect's Car Crash in Newburgh
Douglas Vinson via Facebook
I-84 was closed in Newburgh, NY earlier this week after a simple report of "police activity". The story soon became even more serious, with reports that the crash was caused by a fleeing attempted murder suspect driving the wrong way down the multi-lane interstate. New photos and witness reports help paint a clearer picture.
Attempted Murder Suspect Flees Rockland County, NY
The chase stemmed from an incident that happened in the early morning hours of Monday morning in a hotel in Rockland County, NY, when the suspect allegedly attacked his girlfriend with a hammer. The resulting police chase went through multiple counties before ending with the wrong-way crash just west of the Newburgh Beacon Bridge. Photos from a passing motorist help show the extent of the damage.
Police Chase Ends in Wrong-Way Crash on I-84 in Newburgh, NY
The photo (above) shows a white pickup truck facing westbound in the eastbound lane of I-84, wedged between the cement guardrail and a black SUV facing east. The crash and resulting police activity shut down the bridge and caused hours of delays.
Photos from Newburgh-Beacon Bridge Police Chase
Additional photos show police lining both sides of I-84 as a crime scene was set up and the suspect was taken into custody. Luckily no motorists were seriously injured, but it could have been a much different story. "The guy was coming head on into my husband and he was able to move over. Crazy", said one Hudson Valley woman. She wasn't alone.
"My mom was in the same situation he was coming right at my mom!!", said a Fishkill resident. The good news is that the suspect was apprehended without further incident and is being held by Clarkstown police in Rockland County, NY.
The 10 Most Dangerous and Violent Cities in New York State [List]
The 5 Most Dangerous Roads In New York State
The most dangerous roads in New York.