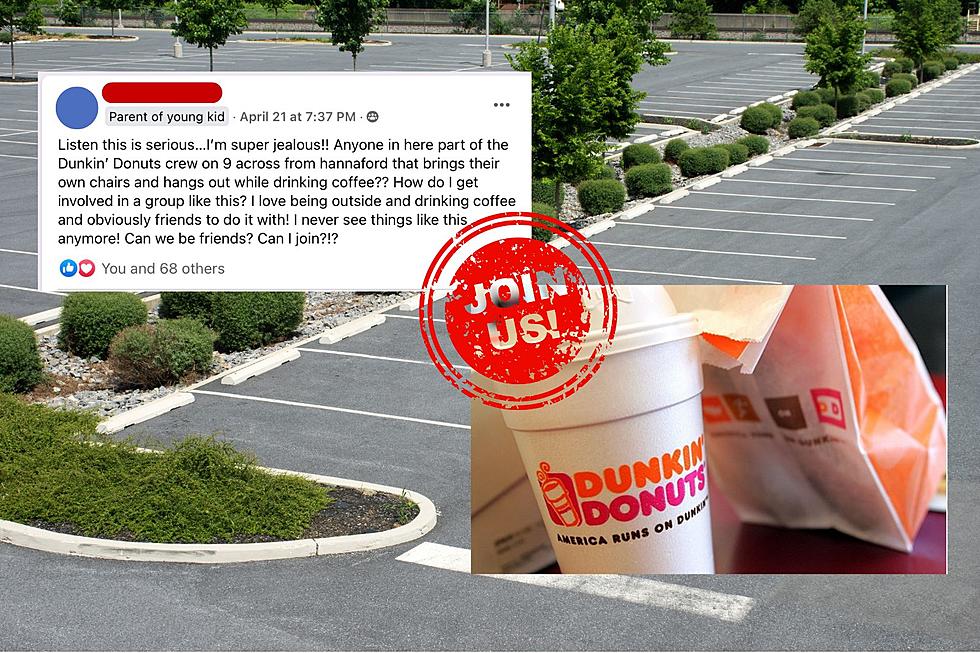 Local Moms Seek Entrance into 'Dunkin' Crews' Across Hudson Valley
Dutchess County Mom's Group, Canva
If you pass by a number of the local Dunkin' locations across the Hudson Valley, especially in the Wappingers/Poughkeepsie area right off Route 9, it's likely you've seen 'the crew.'
'The crew' meaning the various groups of locals that gather at Hudson Valley Dunkin' locations, sometimes sitting in the parking lot on lawn chairs, or on the location's outdoor seats if they have them.
Well some members of the Dutchess County Mom's Facebook Group have been wondering how they can become part of said crew, and here's what the Hudson Valley had to say.

Dutchess County Moms Invite Others to Join Dunkin' Crew; 'Sit, BS & Have A Good Laugh'
It seems that there's no real requirements, or a special way to be admitted into 'the crews' that hang at local Dunkin' locations, so when one member of the Dutchess County Mom's Facebook group posted a question asking about getting invited, a ton of people chimed in, even adding other locations of where people in the area get together.
A few members stepped right up with comments about knowing some of the 'organizers' of the crew meetups, inviting people to stop on by 'sit, BS and have a good laugh.' Another member adding that her daughter works at a local Dunkin' location and they refer to these hangouts as 'the coffee clutch.'
Another group member added information about another location where people can find one of the 'crews':
The McDonald's across Marist has a group of the cutest old men that do this everyday when the weather gets nice- they are all living their best lives
I don't live too far from the group that hangs across from the Hannaford in Wappingers, and have even mentioned to my dad that he should go and hang with the locals over a cup of coffee and a donut one day, but now that I think of it, maybe I should be the one joining the parking lot crew...
4 Refillery Stores in The Hudson Valley
5 Places Guaranteed to Distract Your Kids in Dutchess County