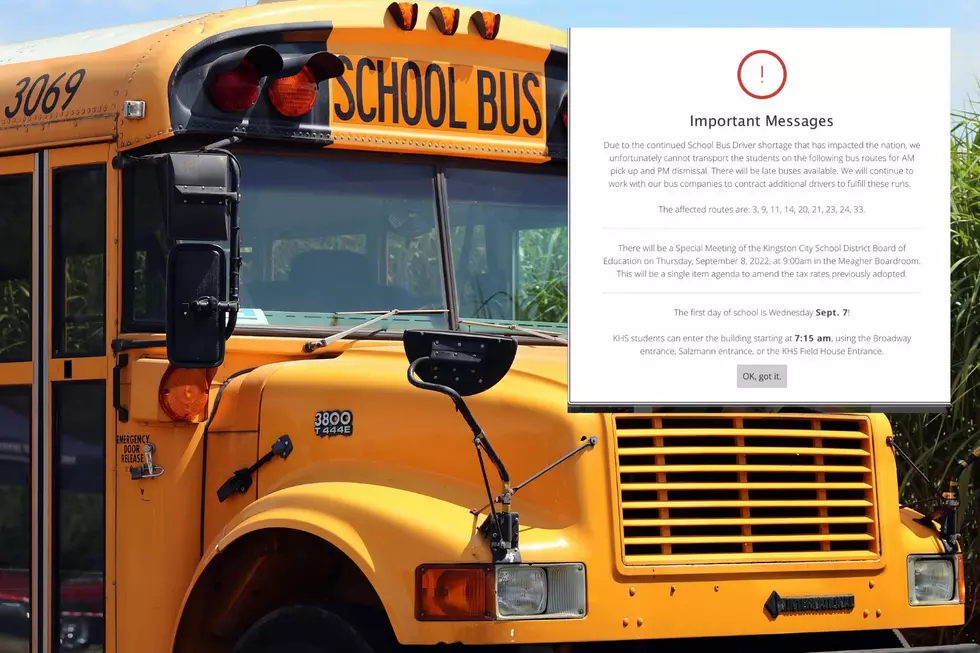 Transportation Turmoil Hits Kingston High School, No Bussing For Certain Routes
kingstoncityschools.org, pixel2013 for Canva
A text message and email notification directing members of the Kingston High School community to a message posted on the school website, the night before school begins, has many across the district concerned.
The message, which came less than 24 hours before the start of the school year has informed families and students about the lack of bussing to and from the high school.
School Bus Driver Shortage Impacts Kingston High School Bus Routes
According to the post, which can be found on Kingston High School's main website as a pop-up announcement, the nationwide school bus driver shortage has impacted the school's ability to bus certain students in the district both in the morning and afternoon, and school begins today.
Due to the continued School Bus Driver shortage that has impacted the nation, we unfortunately cannot transport the students on the following bus routes for AM pick up and PM dismissal. There will be late buses available. We will continue to work with our bus companies to contract additional drivers to fulfill these runs.

 
The announcement shared that the affected bus routes are the following: 3, 9, 11, 14, 20, 21, 23, 24, and 33. Upon checking the main transportation website on the Kingston City Schools website, it appears the high school has approximately 23 routes running daily.  The schedule posted on the district's website does mention the nationwide bus driver shortage, with a message above the 22-23 schedule that states:
Also, please remember that our country is still experiencing bus driver shortages, so a few routes may be modified before the first day of school, so please check back. Thank you!
As it stands now, the impacted routes that will not be running for AM/PM pickup are still listed on the master bus schedule.
Local Parents Share Concerns Over Timeliness, Transportation Issues
Conversations about the lack of notice, and obviously the lack of bussing, for students in the high school has sparked conversation on several community-based Facebook groups. One particular group made up of Hudson Valley Moms had comments from local moms sharing their concern for those who now have to scramble to find transportation to and from school tomorrow for their kids, with some even offering to assist with rides. Others chimed in sharing that they don't even have kids in the school but the news, and when it was shared, was very concerning.

Favorite School Lunches
School is almost back so what is your favorite school lunch?
5 New York Schools Districts Ranked in Top 10 in America