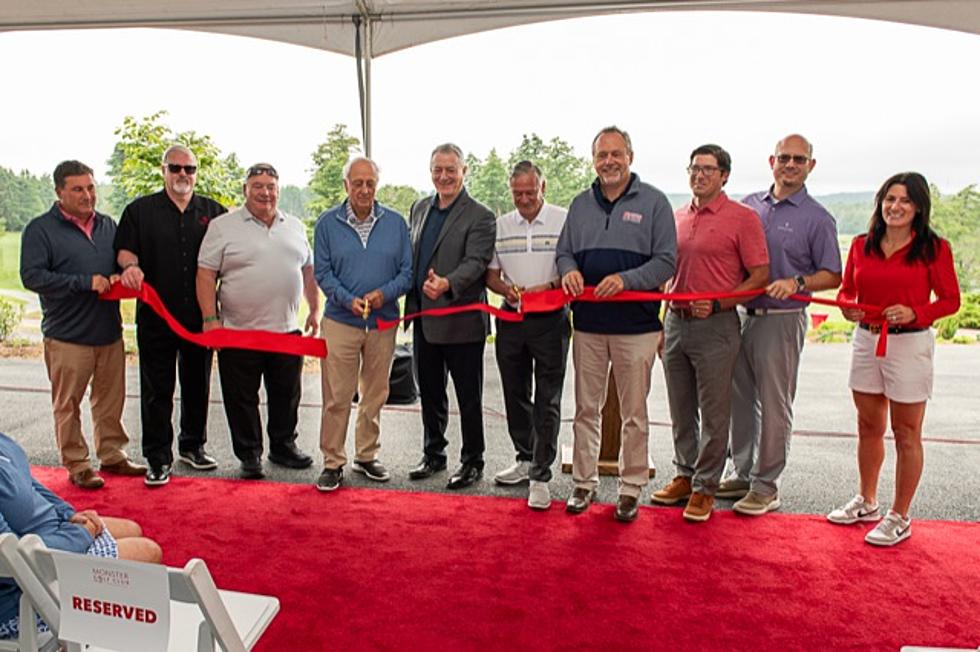 Monster Golf Club Officially Opens at Resorts World Catskills
L to R: Bryce Swanson, Vice President & Senior Designer at Rees Jones, Inc.; Randy Netter, Senior Vice President Operations, Resorts World Catskills; Jack Kennedy, Senior Vice President Gaming Operations, Resorts World Catskills; Rees Jones, President of Rees Jones, Inc.; Bill Rieber, Town of Thompson Supervisor; Robert DeSalvio, President of Genting Americas East; Senator Peter Oberacker, 51st New York Senate District; Uri Jimenez, Club Manager, Monster golf club; Shane Pomeroy, Resorts World Executive Vice President of Finance; Meghan Taylor, Resorts World Senior Vice President of Government Affairs and Public Relations. Photo Credit: Kevin Ferguson
Resorts World Catskills (RWC) hosted a ribbon cutting ceremony today to mark the opening of the Monster golf club. Executives from Genting, which operates Resorts World Catskills, were joined at the event by Rees Jones, the renowned architect behind the complete redesign of the course, as well as by local elected officials and members from the Catskills community.
Robert DeSalvio, President, Genting Americas East, said,
"Today's event adds yet another chapter to this storied golf course and shows the world once again what makes the Catskills such a special community. Our vision for Resorts World Catskills always included the reinvigoration and restoration of this golf course, and we are proud to have delivered on this important commitment. Most of all, we are extremely grateful for the unwavering support of so many who helped turn the dream of championship golf in the Catskills into a reality."
With a $40 million investment from Resorts World Catskills, Rees Jones used holes from both the current Monster golf course and the Old International Course. The Monster golf club, originally designed in 1963 by Joe Finger, was once rated by Golf Digest as one of America's 100 Greatest Golf Courses.
Nestled in the Catskill Mountains, the par-72 championship course challenges every player with length, extensive bunkering, and a variety of water hazards. The Monster is renowned for its large undulating greens, which can be both a challenge and an adventure for golfers. Six sets of tee boxes ensure the course is playable for anyone, from the most seasoned pro to the complete novice. Golfers can ride in style in the newest state-of-the-art lithium-ion E-Z-GO golf carts equipped with GPS technology.
The Monster golf club Pro Shop, located inside The Alder, is now open from 6:30 a.m. – 7:00 p.m. In addition to offering an extensive range of products from top golf brands, it also serves as the check-in location for the Monster golf club, which ensures a seamless experience for hotel guests and visitors alike.
View this post on Instagram
Tee times are available seven days a week, from 8:00 a.m. – 2:30 p.m. You can reserve one by visiting monstergolfclub.com. Sullivan County residents, active military, veterans and hotel guests of Resorts World Catskills are eligible for discounted greens fees (subject to availability).
Complimentary shuttle service allows for easy transportation to and from the golf course, with shuttles running every 20 minutes from dawn until dusk, making stops at Resorts World Catskills, The Alder, The Monster golf club and The Kartrite.
Top 25 Breweries and Wineries in the Catskills
New York State, and especially the Catskill Mountains are home to some of the finest and award-winning locally crafted brews and wines. For tourists venturing upstate to hike or locals looking for a place to hang out, these are some of the top breweries and wineries in the Catskills to check out and support.
Camp in a Galaxy Far Far Away in the Catskills R2 Airbnb Campsite
This out-of-this-world campsite in a galaxy far far away is just a two-hour drive from the Capital Region. If you want to unplug but have some upgraded camping amenities then this Airbnb is for you. You don't have to be a Star Wars fan to book this campsite, but if you are, then you appreciate the attention to detail. The campsite includes 2 canvas safari tents, each with a queen-sized bunk bed, 2 pop-up tents for additional campers, 2 picnic tables, fire pits, and Adirondack chairs to soak up the lake view. It also has two outhouses that are environmentally friendly. Plus there is a Coleman sun shower to rinse off.
Chilling Photos Inside Abandoned Catskills Motel