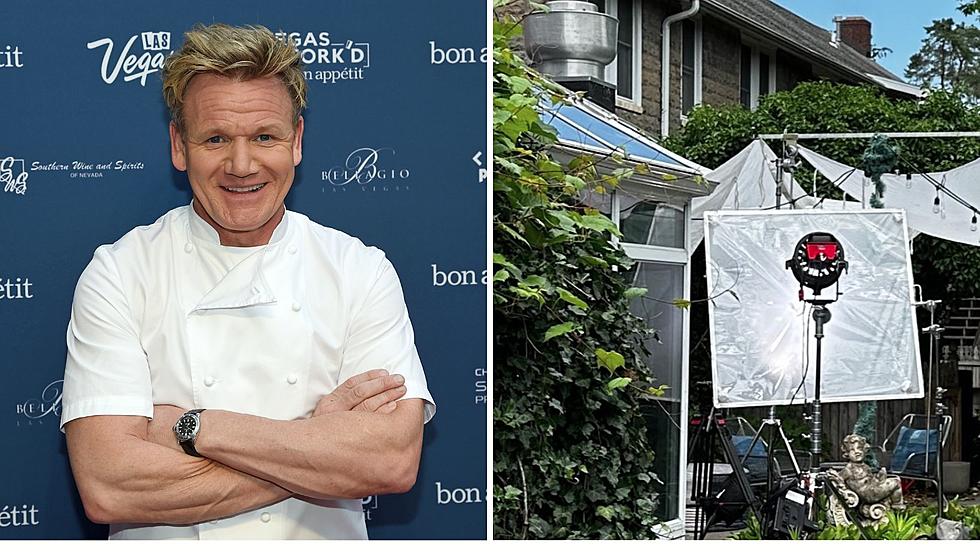 Is a 'Nightmare' Reality Show Filming at Saugerties, NY Restaurant?
Getty Images/Hudson Valley Film Commission, IG
A Hudson Valley cafe allegedly got a visit from one of the most intimidating celebrity chefs in the game.
If you're a fan of food and reality TV then you're probably very familiar with Chef Gordon Ramsay. He's got quite the reputation for being, what's the nicest way to put it? Temperamental? We'll go with that. Remember the idiot sandwich comment?
Okay, so that might have been a parody (and made a great meme) but you get what we mean.
Ramsay has made inspiring chefs cry and pushed family businesses to the test with shows like Hell's Kitchen and Kitchen Nightmares. Now, it looks as though one of those shows has made its way to the Hudson Valley.
What Restaurant Did Kitchen Nightmares Allegedly Film at in Saugerties, NY?
Hudson Valley Film Commission shared on social media that Gordon Ramsay's Kitchen Nightmare was filming in the area but didn't disclose where. However, we received a few text messages through our station app that explained filming may be happening at Love Bites Cafe in Saugerties.
Changes Coming to Love Bites Cafe in Saugerties, NY?
We've reached out to Love Bites Cafe to confirm if Gordon Ramsay and Kitchen Nightmare were filmed at the shop, but we have yet to hear back. So this is all just speculation...
However, on Facebook Love Bites confirmed that they were closed from June 16th through the 19th and have a huge surprise for customers.

They explain:
We have a huge surprise for all of you! Unfortunately before we reveal this announcement we will be changing things up! Don't worry we will still be open for brunch but while we are planning all the new things to come we will be closing dinners on Friday and Saturday evening until July! We will be closed for brunch 6/16-6/19
We will keep you all posted and thank you so much for understanding. We think you will really enjoy the surprise and can't wait to let you all know. Let's just say when we reopen after the 19th things may look a little different!!!
Where in the Hudson Valley is Gordon Ramsay?
We haven't seen any photos of the celebrity chef emerge around town, but just the fact that he's nearby might have local Hudson Valley chefs shaking in their boots.
No word yet on when the episode air, but we'll keep an eye out for any information that may come out within the next few weeks.
Top 5 Saugerties, NY Cafés You Must Visit This Winter
Cozy up with a great cup of coffee from one of the best Saugerties, NY cafés this winter time.
AutoCamp Catskill Sets Up Camp in Saugerties, NY
Stay the night in a luxury airstream or 'glamp' in a canvas tent under the stars in Saugerties at AutoCamp Catskill this summer.
Family Fun Center For Sale in Saugerties, New York
This property will appeal to the kid inside you. With Miniature Golf, Go-Kart Track, Batting Cages, Arcade, Water, and Laser tag plus a concession this mini amusement attraction offers a chance for you to make a living while everyone plays and has fun. Located in Saugerties, New York next to other destination sports venues you couldn't ask for a better location. The Loopnet listing for
455 Washington Ext Family Amusement Center
refers to it as turnkey.