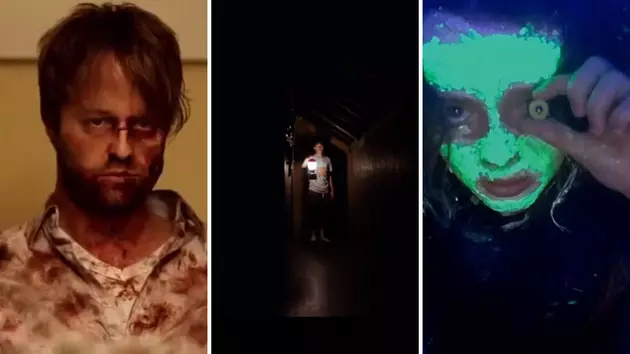 20 Horror Films Produced Right Here in The Hudson Valley
Youtube
Halloween is here, but spooky season can stick around as you like. One way to keep it around is watching local, Hudson Valley produced horror films.
Horror on The Hudson
For the last few years there have been several productions filmed and produced in the Hudson Valley whether it be television or film, the Hudson Valley has earned the title of Hollywood on the Hudson.
However, maybe we should be calling it Horror on the Hudson?
Did you know that there have been over 15 horror films produced in the Hudson Valley? Hudson Valley Film Commission share a list of some of the scarier productions that were created in the Hudson Valley... and they're terrifying.
Hudson Valley Produced Horror
Hudson Valley Film Commission writes on their website that producer, director, and actor Larry Fessenden has a quite the resume when it comes to horror movies in the Hudson Valley.
Fessenden Hudson Valley productions include:
Blackout  (2023), Crumb Catcher (2023), Depraved (2019), Bitter Feast  (2010) and  Wendigo (2001).
According to the site the most recent film directed by Fessenden, Blackout, follows a Fine Arts painter who is "A Fine Arts painter is convinced that he is a werewolf wreaking havoc on a small American town under the full moon."
Bitter Feast which filmed in Woodstock and other New York locations follows a celebrity chef who falls from grace after a bad food blogger review. He then exacts his revenge on said food blogger (played by Joshua Leonard, who you may know from The Blair Witch Project).
Other films featured in Hudson Valley Film Commissions list:
It Comes at Night
Old Man
Depraved
Scare Me
The Ranger
We're All Going To The Worlds Fair
Do you have a favorite Hudson Valley horror movie? Check out the full list of the Hudson Valley Film Commission horror movies on their website HudsonValleyFilmCommission.org.
Wappingers Falls, NY SFX Makeup Artist Shares Wicked 31 Days of Halloween Looks
Poughkeepsie, NY Family Has Halloween Fun with Hauntingly Charming Front Lawn Display
As the sun goes down in Poughkeepsie, the Dellamura Halloween light display will illuminate the nights and frights!
6 Hikes To Explore Abandoned Ruins in the Hudson Valley
Coming across abandoned ruins really spices up a hike. Check out these Hudson Valley trails that take you back in time.