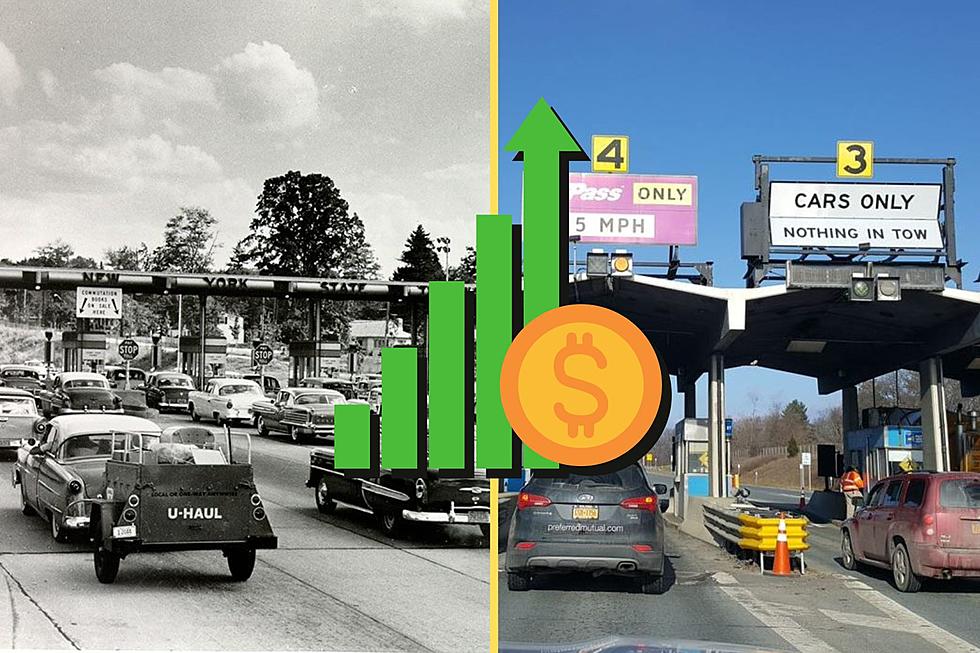 Are New York Tolls REALLY More Expensive Now than in 1954?
NYSTA/Canva
Once again, the New York State Thruway Authority (NYSTA) is increasing the prices of tolls. While they tout that New York tolls rank among the cheapest in the country, many residents are still wary of reaching deeper into their pockets.
One of the most common responses, in fact, has been to look at the past. The "back in my day..." tales flood the comment sections of any update the NYSTA shares with New Yorkers. But is it really true that tolls used to be cheaper? When taking factors like inflation into consideration, the answer may surprise you.
The Creation of the New York State Thruway
The New York State Thruway, which slices through the Hudson Valley to connect New York City with Buffalo, NY, began construction in the 1940s. 10 years later, in 1954, the first segment of the "super highway" between Albany, NY and Lowell, NY was opened for travel. They very first toll was collected at 10:01pm on June 24th. Check out a pricing ticket from 1954 below.
The Tappan Zee Bridge Built in 1955
Less than a year later, the Tappan Zee Bridge celebrated its grand opening. The 3-mile-long span was one of the last projects needed to complete the thruway's connection to New York City. The opening-day cost to cross the bridge was 50 cents in each direction, but in 1970 (after westbound tollbooths were removed) eastbound tolls were increased to $1. A single dollar to cross a bridge sounds like heaven when looking at today's prices, but are bridge and thruway tolls really more expensive now?
Calculating Costs of 1950-Era Tolls in New York
Inflation is a cruel mistress. Since the 1950s, the United States has experienced roughly 3.5% rate of annual inflation. That means that in the 69 years since the thruway opened, the country has seen prices increase by a factor of roughly 1,000%. When using that ratio, current-day toll prices don't sound so bad.
How Much it Cost to Cross the Tappan Zee Bridge
Taking inflation into consideration, the price to cross the Tappan Zee bridge ($1 round-trip) in the 1950s equates to $11.22 in today's dollars. That's a far cry higher than the actual 2023 price to cross the span, which the Thruway Authority lists as $5.25 for E-ZPass users. The same goes for thruway tolls.
Thruway Toll Prices in New York Including Inflation
In 1954, the cost for a car to travel the thruway from Newburgh, NY to Albany, NY was $1.15. Again, after inflation is considered, that toll comes out to $12.90 in today's economy. Luckily for us, the cost for E-ZPass customers to make that drive in 2023 is only $3.93. These calculations make the New York Thruway Authority's claim of having one of the cheapest toll roads in the nation make a little more cents (sorry, toll pun).
The New York State Thruway currently boasts an average cost of 4.5 cents per-mile (a price that will increase to 4.9 cents per-mile by 2027). In 1954, the cost of tolls (including inflation) works out to approximately 14 cents per-mile, roughly three times the cost of current-day tolls. So while New Yorkers may roll their eyes at another price hike, it's important to remember that we're still doing a lot better than the first thruway pioneers to hit the road nearly 70 years ago.

Inspired to hop in the car for some long-distance traveling? Check out the must-drive roads in every state below, then keep scrolling to see New York's "most scenic road trip" that takes you from New York City to some gorgeous upstate destinations (hint: you'll even spend some time on our very affordable thruway).
See the Must-Drive Roads in Every State
Take New York's Most Scenic Spring Road Trip In 5 Days
Spring time is in full swing all across New York State. Take time to get out this season and explore. Maybe take an epic scenic road trip over the course of 5 days.
We decided to ask ChatGPT to get the most epic, most iconic, and most scenic Spring Road Trip across New York State. Here's what it suggested: