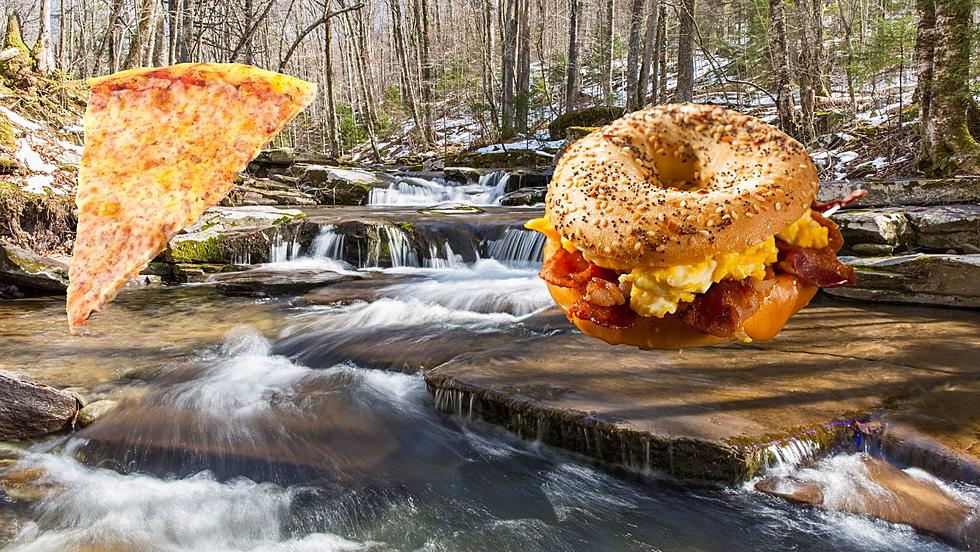 NYC Bagels and Pizza Have Catskill, NY Water to Thank
Canva
When it comes to food and New York you can say we're pretty passionate.
Every year those lists come along about the Best Pizza in America and then there is a heated debate between New York, New Jersey and Connecticut. But at the end of the day, when people think pizza, they think New York.
Una Pizza Napoletana in New York City was named the top pizza place in the US back in 2022. And it looks like the NYC pizza game has Upstate, New York to thank for that.
True or False? Catskill, NY Water Makes NYC Pizza and Bagels Better
If you've ever had a conversation about pizza in the city then you've probably uttered the words "it's all because of the water they use." And apparently, there's some truth behind that.
The State of New York had some fun on Twitter with a popular mean featuring rapper Bad Bunny and Kendall Kardashian. In the meme the rapper can be seen saying something passionately in Kardashians ear courtside at a basketball game. The State of New York meme is implying that Bunny is talking about Catskill mountain water and its importance to pizza and bagels.
Does The Water REALLY Make a Difference?
In March of 2023, Food and Wine posed the question "Is New York Water Really The Secret To The Best Bagels and Pizza?" They went on to write:
As the largest unfiltered water supply system in the US, New York City tap water comes from the southeastern part of the state, from what is called the "NYC watershed." While there are three distinct areas it can come from, 90 percent of the water the city (and surrounding areas) consumes comes from the Catskill and Delaware Watersheds. Mostly collected from precipitation (rain & snowfall), the state of New York calls the water from the NYC watershed the "Champagne" of drinking water.
It's an interesting read about how the water travels and what the water from the Catskill and Delaware watershed picks up along the way including minerals that affect pizza and bagel making in New York City. Food and Wine concludes: "So, yes, New York City water is unique and does contain properties that likely make it more conducive to better dough for bagels and pizza."
So, you're welcome New York City!
25 Must Try Pizza Places in the Hudson Valley
Here are some of our must-try places to grab a slice in the Hudson Valley:
Top 25 Bagel Shops in the Hudson Valley
The 10 Best Pizza Places in Middletown, New York
Here are the top 10 most reviewed pizzerias in Middletown, New York according to Yelp.