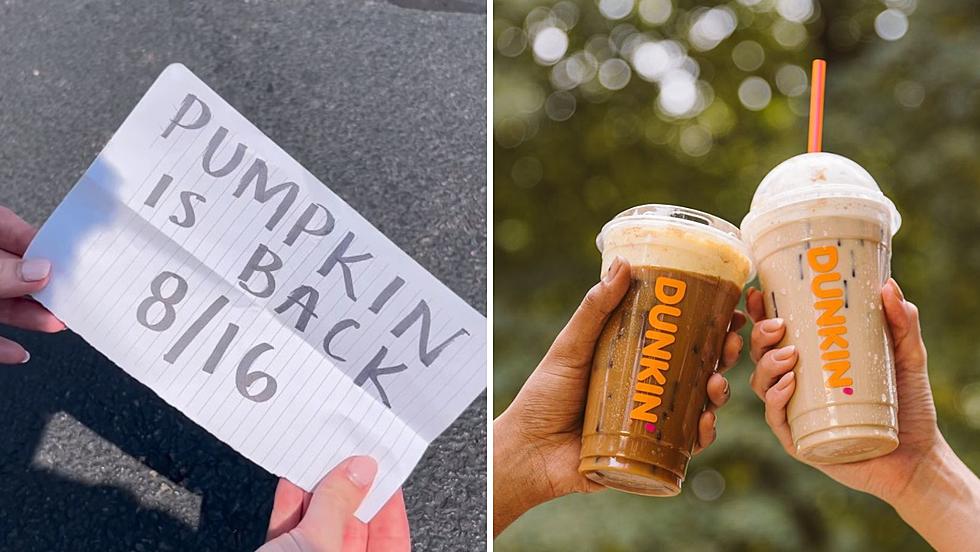 Pumpkin Spice Set to Return to Hudson Valley Dunkin Locations This Month
Dunkin', Instagram
Sure it's 85 degrees out, but it's never too early for pumpkin spice.
While we sweat out the last few weeks of summer, one popular coffee company is getting a head start on fall.
The Return of Pumpkin Spice to the Hudson Valley
According to several sources, and summer haters, July 5th is the kick off of spooky season. These sources explain that after the 4th of July there's no major holiday until Halloween and home decor stores start rolling out the harvest themed products. Including pumpkin.
For example, I went into Hobby Lobby during the last week of July and came across a full wall of Styrofoam pumpkins and 2 sections dedicated to Thanksgiving.
There were also rumblings that Starbucks would be bringing back their pumpkin spice lattes earlier this year than they did last year. However, it looks as though Dunkin' beat them to the punch.
On August 8th, 2023, Dunkin shared the following video to their Instagram and social media accounts:
Needless to say the pumpkin lovers freaked out. Including myself. Something about pumpkin spice just warms me up inside...even though I usually get it iced.
With all of that being said, my Hudson Valley Dunkin' Pumpkin sources tell me that some locations already have it in stock and it's secretly available. There's only one way to find out, you'll have to check out one of the many Dunkin' locations across the Hudson Valley.
Other Pumpkin Spice Products to Try in the Hudson Valley
According to Hip2Save.com, Wendy's will be introducing a Pumpkin Spice Frosty to their line up. Pumpkin Head beer seems to have already weaseled its way to beer shelves in the Hudson Valley and locally, Halfsies Cookie Co. in Marlboro has added their Pumpkin Chocolate Chip and Pumpkin Churro cookie to their website.
There's no pumpkin shortage here! Where are your favorite pumpkin products from? Have you seen any released yet in the Hudson Valley?
Scenes of Fall Foliage at Gertrude's Nose in Kerhonkson, NY
Check out the bright yellows, oranges, and deep reds peeping through at Lake Minnewaska and Gertrude's Nose.
13 of the Creepiest Hudson Valley Locations to Explore this Fall
The Hudson Valley is rich with haunted history. Here are some of the most, allegedly, haunted buildings and locations across the Hudson Valley.
10 Least Pumpkin Spice Latte Obsessed States
These are the 10 least Pumpkin Spice Latte obsessed states in the country, according to Longview News-Journal