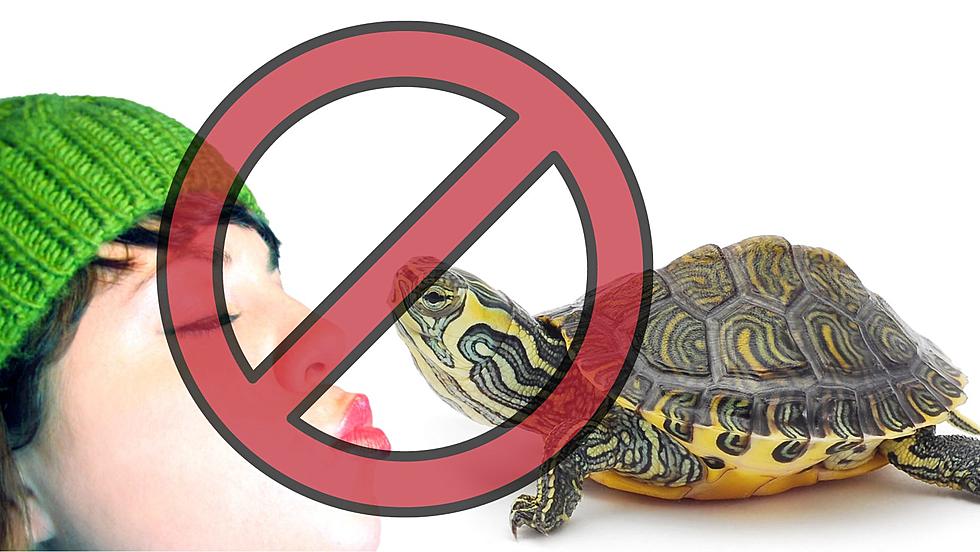 CDC: "Don't Kiss Your Turtle," Pet Turtles Linked to Salmonella Cases in NY
Canva
Put the lipstick away. The Center for Disease Control is asking you to please stop kissing and snuggling your pet turtles.
Salmonella Outbreak in Several States Linked Back to Pet Turtles
A report from the CDC, released on August 18th of this year, details a Salmonella outbreak in the United States. 26 people have been infected with the disease including 3 cases in New York.
On the CDC's website, they share that public health officials have been investigating a  "multistate outbreak of Salmonella linked to small turtles".  While they share that any turtle can carry Salmonella, turtles with "shells less than 4 inches long are a known source of illness."
The current investigation began back in July of 2023 in Tennesee. According to the Investigation Report posted by the CDC, "the Tennessee Department of Health collected samples from two turtles and their tank in a sick person's home for testing." The turtles tested were purchased from a pet store and "WGS showed that the Salmonella on the turtles and their environment are closely related to bacteria from sick people."
Pet Turtle Safety Tips
There are several steps to take to keep yourself and your family safe when it comes to owning a pet turtle. The CDC has a full list of suggestions to follow to avoid contracting Salmonella, including not kissing your turtle.
The CDC explains:
Don't kiss or snuggle your turtle, and don't eat or drink around it. This can spread Salmonella germs to your mouth and make you sick.
They also add that your turtle's habitat shouldn't be in your kitchen or wherever you store food. If you're looking for a pet, turtles are "not recommended for children younger than 5, adults aged 65 and older or people with weakened immune systems." According to the Center for Disease Control, this group of individuals is more likely to get a "serious illness from germs that turtles can carry."
People who handle turtles at any time should thoroughly wash their hands immediately after feeding or handling their pet turtle.
Thankfully, out of all the 26 cases of turtle-related salmonella, there have been no deaths. You can read more on the investigation and cases across the US on the CDC website. 
New York Snapping Turtle
10 Exotic Animals You Can Legally Have as Pets In New York
Looking for an exotic pet in New York State? Here are 8 animals you can legally have.
Meet the Hiking Therapy Animals of the Hudson Valley
Eleanor Pigby made a splash on social media around the Hudson Valley this week. Turns out she's part of a pretty special team. Get to know Eleanor and the rest of the Pets For Purpose Animal Therapy group of The Summit School in Nyack.