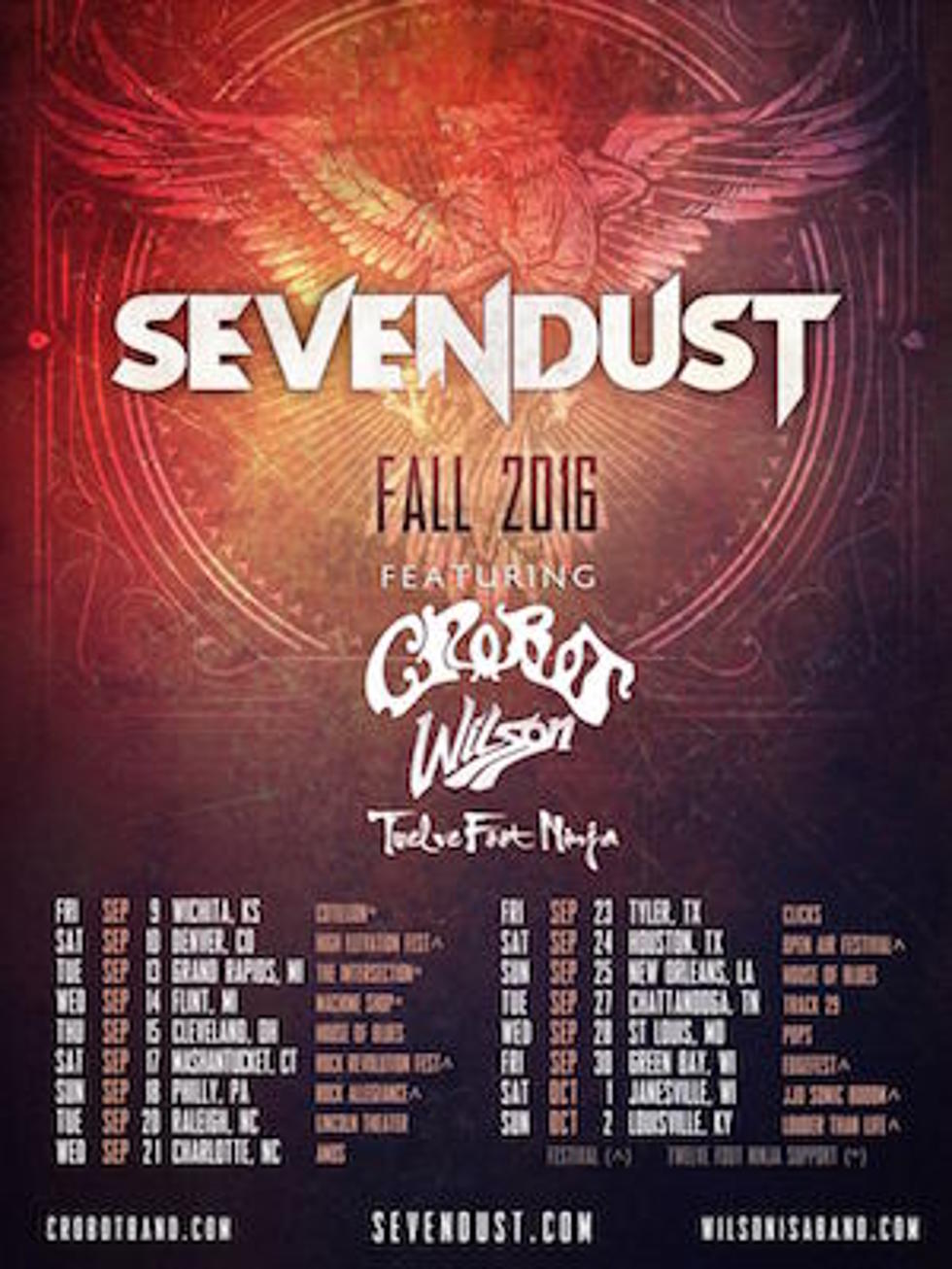 Sevendust Announce Fall 2016 Tour With Crobot + More
Facebook: Sevendust
Sevendust are certainly road warriors. The band previously announced an August tour, and now they've revealed that they're heading out on fall trek, as well. Crobot will once again serve as the direct support, with Wilson and Twelve Foot Ninja opening up.
The trek is slated to launch in Wichita, Kan., on Sept. 9. From there, Sevendust head to the High Elevation Fest in Denver, Colo., and work their way east, hitting more stops between a series of festival stops in Connecticut, Pennsylvania, Texas, Wisconsin and Kentucky.
Sevendust will be out in support of 2015's Kill the Flaw, which will have officially been out one year by the time the tour concludes. Crobot will release Welcome to Fat City on Sept. 23 while Wilson will be touting last year's Right to Rise. Opening each night will be Twelve Foot Ninja, who will be releasing their sophomore effort, Outlier, on Aug. 26.
Tickets and VIP options will be available on Friday (July 28) at 10AM local time. Check the Sevendust website for more information about the band and upcoming tours.
Sevendust Fall 2016 U.S. Tour (feat. Crobot, Wilson + Twelve Foot Ninja)
09/09 — Wichita, Kan. @ Cotillion*
09/10 — Denver, Colo. @ High Elevation Fest
09/13 — Grand Rapids, Mich. @ The Intersection*
09/14 — Flint, Mich. @ Machine Shop*
09/15 — Cleveland, Ohio @ House Of Blues
09/17 — Mashantucket, Ct. @ Rock Revolution Fest
09/18 — Philadelphia, Pa. @ Rock Allegiance
09/20 — Raleigh, N.C. @ Lincoln Theater
09/21 — Charlotte, N.C. @ Amos
09/23 — Tyler, Texas @ Clicks
09/24 — Houston, Texas @ Open Air Festival
09/25 — New Orleans, La. @ House Of Blues
09/27 — Chattanooga, Tenn. @ Track 29
09/28 — St. Louis, Mo. @ Pops
09/30 — Green Bay, Wis. @ Edgefest
10/01 — Janesville, Wis. @ JJO Sonic Boom
10/03 — Louisville, Ky. @ Louder Than Life
* No Crobot or Wilson
Previously Announced Sevendust August Tour (feat. Crobot + Red Tide Rising)
8/02 – Bloomington, Ill. @ Castle Theater
8/03 – Minneapolis, Minn. @ Mill City Nights
8/05 – Sturgis, S.D. @ Full Throttle Saloon
8/06 – Fort Collins, Colo. @ Aggie Theater
8/07 – Salt Lake City, Utah @ The Complex
8/09 – Regina, Saskatchewan @ Conexus Convention Hall
8/10 – Calgary, Alberta @ Marquee Beer Market
8/11 – Edmonton, Alberta @ The Ranch
8/12 – Saskatoon, Saskatchewan @ Saskatoon Events Center
8/14 – Winnipeg, Manitoba @ Burton Cummings Theatre
8/17 – Toronto, Ontario @ The Opera House
8/19 – Council Bluffs, Iowa @ River Riot Festival
8/20 – Columbia, Mo. @ Blue Note (with Killswitch Engage)
Biggest Rock + Metal Stories of 2016 (So Far)
Sevendust Play 'Wikipedia: Fact or Fiction?'