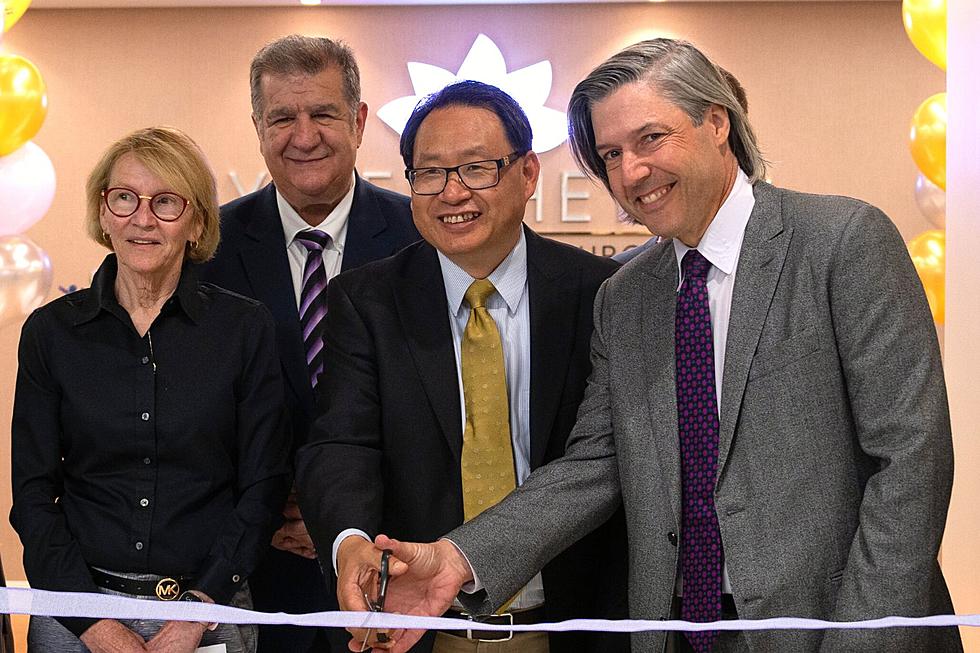 New Integrative Plastic Surgery Center and Spa Opens in Middletown, NY
(SY Aesthetics) SY Aesthetics celebrated the opening of its new integrative, office-based plastic surgery (OBS) center and spa in Middletown, NY, on June 16, 2023. (L to R) Assemblywoman Aileen Gunther, Mayor of Middletown Joseph M. DeStefano, SYA CEO Dr. Jingduan Yang, and SYA Medical Director Dr. Jeffrey Yager
SY Aesthetics (SYA) celebrated the opening of its new 5,500 square-foot integrative, office-based surgery (OBS) center and spa in Middletown, NY, last Friday, June 16th. Members of state and local government, employees, and community leaders came to celebrate the organization's newest center.
SY Aesthetics Opens Doors in Middletown NY
Jeffrey S. Yager, MD, serves as the Medical Director in SYA's New York City and Middletown offices. The new Middletown office, located at 14 Jason Place, is a state-of-the-art facility with two fully equipped operating rooms, a three-bed fully monitored pre-operative suite, a three-bed recovery suite with a private bathroom, a private patient entrance, and ample parking.
SY Aesthetics provides an innovative blend of Cosmetic Plastic Surgery, non-surgical cosmetic services, nutritional guidance, psychological support, natural beauty procedures, and lifestyle medicine to enhance patients' health, happiness, and beauty. Dr. Jingduan Yang, CEO of SYA, and Dr. Yager, its Medical Director, envisioned this integrative approach to aesthetics that will not only increase the outward beauty of patients but will also create inner beauty and happiness by optimizing mental wellness, stress management, nutrition, spirituality, and lifestyle.
Jeffrey S. Yager, MD, SYA's Medical Director
Dr. Yager is a renowned, Board-Certified Plastic Surgeon specializing in facial, body, and breast procedures. Dr. Yager has served the Hispanic community in Washington Heights, NY, for over two decades. A Johns Hopkins University graduate who received his medical education at The Columbia University College of Physicians and Surgeons, and his training in Plastic and Reconstructive Surgery at Columbia Presbyterian Medical Center, Dr. Yager brings a wealth of experience and expertise to the practice.

Dr. Yager stated, "If you operate on unhappy people, all you achieve in the end are more attractive unhappy people. Being a part of a movement to go beyond the physical in Plastic Surgery is what makes SYA so special."
"The work we're doing at SY Aesthetics is creating a paradigm shift in Aesthetic Medicine and Surgery to help our patients become healthier, happier, and more beautiful," says Dr. Jingduan Yang, CEO of SYA.
For more information about SYA's plastic surgery specialties, spa services, or integrative therapies, please visit www.syaesthetics.com.
The 10 Best Pizza Places in Middletown, New York
Here are the top 10 most reviewed pizzerias in Middletown, New York according to Yelp.
Try These 10 Delicious Chinese Restaurants in Middletown, NY
With the help of Yelp reviews, it has been decided that these Middletown, NY Chinese restaurants stand above the rest in taste, quality and service!
Discover the Best Breakfast Spots in Middletown, New York
These are the Top 10 Breakfast spots in Middletown, New York according to Yelp reviews. Which of these places have you enjoyed?