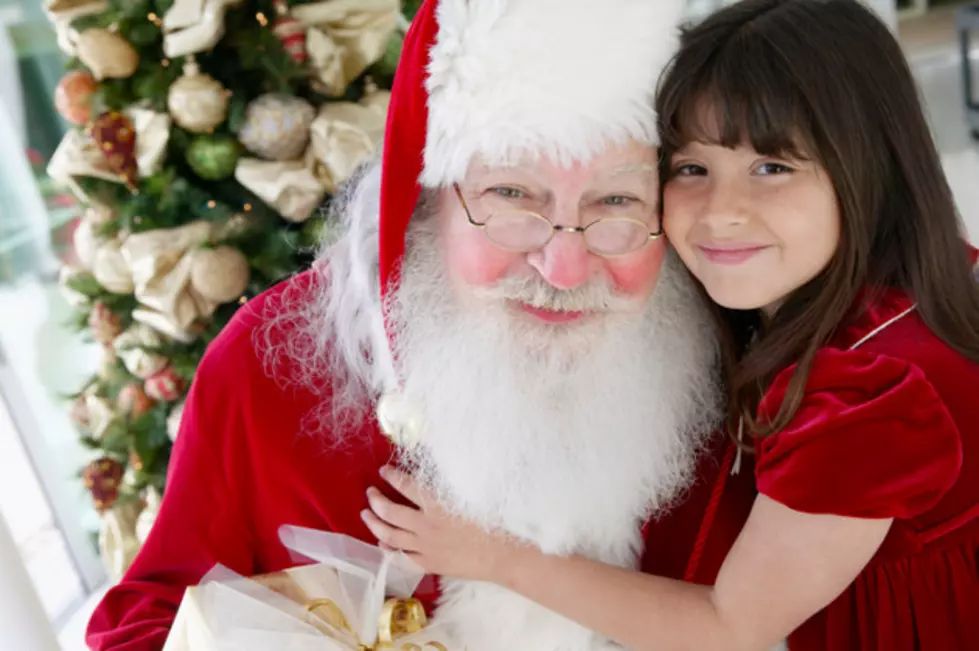 Want Something to Do This Weekend Other Than Shopping?
Digital Vision.
If you ask me this upcoming weekend is not the most wonderful time of the year...in fact it could be the worst. Crowds, yelling, kicking, being trampled over a $50 TV...no thanks! That's why I wanted to share some upcoming holiday events sure to bring cheer, not tears this weekend.
Whether it's a tree lighting, festival, holiday parade or meeting with Santa the Hudson Valley has it all. There are some great events happening not only this weekend but over the next several weekends that will keep you and the family happily entertained this holiday season.
Some of my personal favorites include the story of Sinterklaas told by the Village of Rhinebeck. They have two back to back weekends celebrating this historical character. There are also tons of activities for the kiddies including story time, crafts, a childrens parade and so much more. If you don't know the history of Sinterklaas click here to be taken back in time.
Another one of my favorite events, as it is for thousands of others, is the City of Poughkeepsie's Festival of Lights Parade. There are so many amazing events jammed into one festive evening of fun. There is not one, not two but three tree lightings along the parade route which kicks off at Main street and works it's way all the way to the Walkway. After the parade be sure to stick around for the areas only winter fireworks (love me some fireworks!). Then the evening is capped off with a special showing of 'Its a Wonderful Life' at the Bardavon. A magical evening for the whole family.
My last favorite (which is really not true, there are so many more!) is the Town of Union Vale's Festival of Lights at Tymor Park. It's one of the largest light displays around, over 150,000 lights! And if that wasn't enough the jolly man himself, Santa Clause makes an appearance and invites you to stay for dinner. I mean come on! Dinner with a celebrity, that's pretty sweet.
You can find out more about the above mentioned events and many others happening throughout Dutchess County this holiday season in the below details. I hope you're able to get out and enjoy some of these amazing events this holiday season.
Pine Plains -Saturday, November 26th
Annual Town Decorating Day and Parade of Lights, 3pm, Parade, 5pm. Lighting 5:30pm.
Rhinebeck – Saturday, November 26th & Saturday, December 3rd
11/26: Sinterklaas Send-off Celebration departs from the historic Kingston Waterfront (aka "Spain") after a full day of open houses, musical performances, workshops creating beautiful crowns and branches, and a Children's Maritime Parade down Broadway, with stars and puppets galore. Kingston sends off Sinterklaas and his white horse on a tugboat across the river to his destination there. After his send off, there will a Sinterklaas Soiree, Tree Lighting Ceremony, and plenty of specials at all of the local restaurants.
12/3: Sinterklaas Festival Day, Rhinebeck. A day-long, colorful celebration that features children's workshops, dance, theatre and music all over the village of Rhinebeck. This year be sure to visit The HIVE and hear the Secrets of the Honey Bees. Don't miss the Dancing Bear, the Pocket Lady, and Mother Holly. The spectacular Children's Starlight Parade at 6:00 pm, featuring two-story tall, animated puppets carried by hundreds of volunteers, closes the day at twilight. A non-denominational event, Sinterklaas joins residents and visitors alike, people of all ages and backgrounds, in a memorable celebration of children, art, and the light of the winter season
Pawling -Friday, December 2nd
Decemberfest – Tree Lighting, Chamber of Commerce Building/Welcome Center, Charles Colman Blvd., Pawling. Enjoy the charm and festivities of an old fashioned Christmas celebration. Tree lighting; visit with Santa & Mrs. Claus, horse drawn wagon, music, holiday decorations. 6pm-9pm. Free. All month: Holiday workshops and sales events by participating merchants. Pawling Chamber of Commerce. 845-855-0500. www.pawlingchamber.org
Poughkeepsie -Friday, December 2
The City of Poughkeepsie will present the 23rd annual Celebration of Lights Parade and Fireworks,  6:30pm. The parade commences at 6:30pm on Main Street and Garden Street and proceeds to the evening's first Christmas tree lighting on Main, near Market Street.
The parade proceeds down Main Street to Clover Street where the marchers and attendees convene at Dongan Square Park for the second Christmas tree lighting. Then at 7:15, Poughkeepsie River District Business Association and Legion Fireworks present the area's only winter fireworks display along Poughkeepsie's waterfront.
At this time the third tree is lit at the center of the Walkway Over the Hudson, which opens its eastern gate for viewing the fireworks from high above the Hudson River. Walkway members can watch the fireworks display for free; nonmembers are asked to pay a donation of $5. Following the parade at 8PM the Bardavon screens the classic film "It's a Wonderful Life".
Beekman -Saturday, December 3
"Snowflake Spectacular!" Community Ctr., Recreation Rd., Beekman. Join friends and neighbors for an afternoon of holiday cheer! Visit with Santa, enjoy crafts, face painting, and play outdoor games. Caroling with Tyler Conklin.  Refreshments available.  Santa's Mailbox: bring a letter for Santa with a STAMPED addressed envelope and you will get a reply from the North Pole! Tree Lighting 4:30pm. www.townofbeekman.com. Beekman Rec Community Center. Admission is a plate of cookies to share! 2:30-4:30pm
Union Vale -Saturday, December 3
"Festival of Lights". Tymor Park, 249 Duncan Road. Town of Union Vale.  Grand lighting of more than 150,000 lights.  Fife and drums and carols accompany ceremony.  5:30pm. Tree is lit at 6:30 pm. Also: Dinner with Santa Claus at 3:30pm.Reservations needed for dinner. 845-724-5691.
Town of Wappingers -Saturday, December 3
Christmas Tree Lighting. Come and join a fun, old-fashioned, family event with refreshments, Christmas carols, and gifts for the kids. And, of course, the guest of honor, the Jolly Old Elf himself, Santa Claus.  Sponsored by the Town of Wappinger Recreation Department & Committee. 5 - 7pm. Schlathaus Park, corner of Meyers Corners and All Angels Hill Rd. 845-297-0720.
Stanfordville -Saturday, December 3rd (Rain/Snow Date: December 4
Holiday of Lights Parade.  Town Hall, 26 Town Hall Rd./Rte. 82, Stanfordville. Parade of lighted floats and vehicles; lighting of the town's holiday tree. Visits with Santa and gifts for kids. Refreshments atfirehouse. Sponsored by Lions Club & Ladies Auxiliary. Parade 6pm. Event is free and open to the public.
Hyde Park -Sunday, December 4
Candlelight Walk & Tree Lighting. Rt. 9, Hyde Park. Join the procession from the Hyde Park Methodist Church to Town Hall where Santa Clausarrives and the Christmas tree is lit. Enjoy music and refreshments inside. Festivities begin at 4:45pm. Event is free and open to the public.
East Fishkill -Sunday, December 4
Christmas Tree Lighting Ceremony, 5pm East Fishkill Community Center, 890 Route 82 in Hopewell Junction, 12533. The event is sponsored by the Rotary Club. 5pm. www.eastfishkillny.org/content/east-fishkill-tree-lighting-ceremony-2
Village of Fishkill -Sunday, December 4
Holiday Party & Village Tree Lighting. Van Wyck Village Hall, 1095 Main St., Fishkill. Kids enjoy a petting zoo, plus making crafts and storytelling before the Christmas tree is lit. 2:30 -4:30pm. Free.845-897-4430. www.VOFishkill.com
Beacon Second Saturday-Saturday, December 10
The City of Beacon and BeaconArts host a Christmas tree made from recycled bicycle parts. The City of Beacon and BeaconArts team up for the city's annual Tree Lighting on Beacon's Second Saturday. Celebrate with music and dance, & crafts for kids. Santa arrives at 4:30 pm. The tree is made of recycled bicycle parts. Bring something to add to the tree. Pocket park at the corner of Rte. 9D & Main Street next to Beacon Visitor Center. 3 pm.
Village of Tivoli Winterfest -Saturday, December 10
Magic show, Merry Minstrels, crafts, games Santa and reindeer. Tree lighting and food and drink. Bonfire and fireworks follow. 2pm- 5pm. Free. 1 Tivoli Commons, Tivoli. 845-757-2021. www.TivoliNY.org