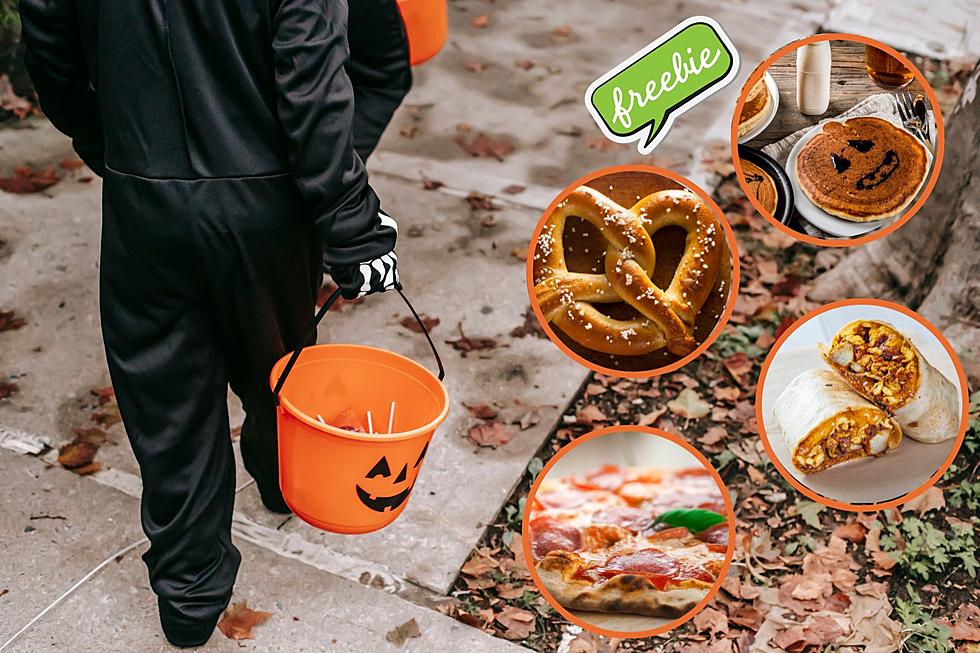 All Treats, No Tricks! Cash In On These Hudson Valley Halloween Freebies
canva
With the countdown clock to Halloween almost coming to a close, have you considered what you're going to feed the family before the kiddos get all sugared up running through the streets of the Hudson Valley?
No? Me either.
Pre-covid, our neighborhood group would all get together at one of the houses, order a bunch of pizzas, and carb-load before candy, but it's been a while since that happened.
Lucky for us, there's a number of local deals, including some freebies, to feed the ghouls, goblins and ghosts before they take to the streets.
Hudson Valley Halloween Meal Freebies
There's a decently wide variety of freebie and discounted food options to fulfill different appetites for Halloween. In no particular order:
Domino's Pizza: Make a $7.99 (or more) purchase and receive a coupon for a two-topping pizza to use within 30 days.
IHOP (there are still locations in Newburgh, Monroe, and Mohegan Lake): With the purchase of an adult entree, kids 12 and under can create their own FREE 'scary face pancake' - runs 4pm-10pm through Halloween night.
Sonic (New Windsor & Middletown): will be serving up $.50 corndogs. 'Come in costume. Say "Trick or Treat". Or don't, because this deal is all day for everyone. Just order a corn dog, or two, or three and they're 50-cents. All. Day.'
Wendy's: their annual Boo! Books are available, and with every $1 book purchased, you'll get 5 FREE Jr. Frosty coupons through Halloween night!
Chipotle: Get your BOORITO on (using that word as the code) on the Chipotle app, or at their website beginning at 3pm through closing on Halloween to receive a $6 entree as a rewards member.
Burger King: Trick or HEAT, please, as a rewards member, you can grab 16.9% off a monster of a meal (whopper, chicken fries, regular fries, drink, dessert).
7-Eleven: they're helping you CREEP IT REAL for Halloween with a BOGO pizza offer their through app. Bonus: they've got a Halloween slurpie in stores now, too.
Applebees: With any $40 or more spent on a to-go order use the code SCARY23 to get a free 10-piece boneless wings, Halloween only.
Auntie Anne's: they rolled out their new confetti pretzels not too long ago, and you can try them for 20% off by using their app. This offer goes through 11/13, score!
Baskin Robbins (Newburgh): if the candy isn't going to cut it, you can visit Baskin Robbins for a scoop at 31% off. This is every month on the 31st, not just Halloween!
Ok, now it's time for candy! Happy Haunting!
The Top Halloween Costumes in the Hudson Valley 2023
We asked what your Halloween costume was this year, and you let us know! From goofy to horrifying, these are the top responses we received!
Gallery Credit: Conor Walsh
Classic Halloween TV Episodes
Halloween: a time for candy, costumes and binge-watching spooky special editions of your favorite TV shows.
Gallery Credit: Corey Irwin