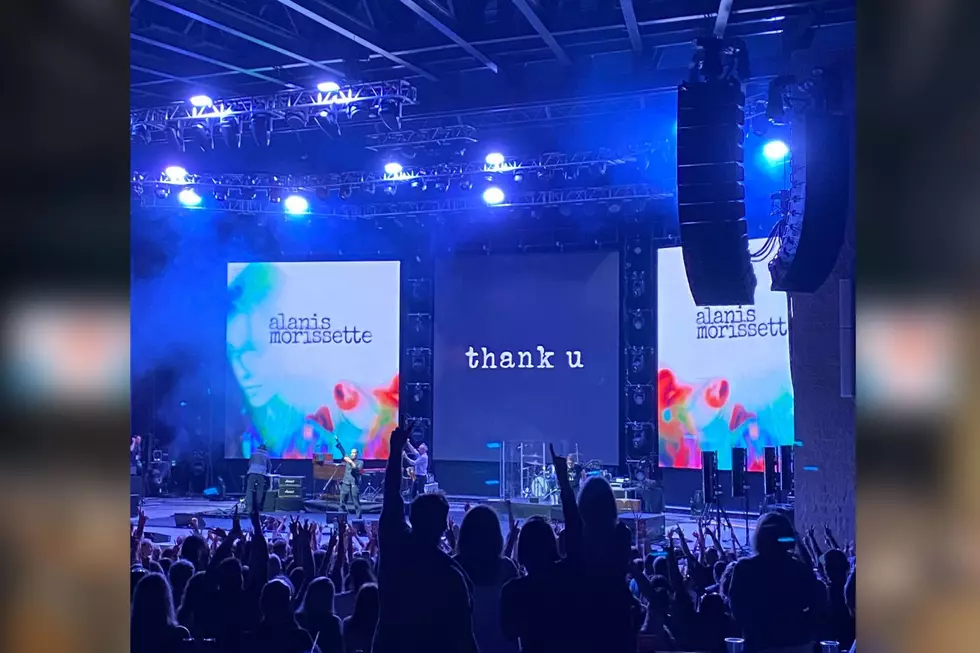 You Oughta Know About Alanis Morissette's Iconic 25th Anniversary Tour
V.Turco
I'm not quite as well, I thought you should know...
I will start by saying that over the past nearly 18 years that I have worked in radio, most of them here at WRRV, I have been very fortunate to be able to see so many incredible concerts.  Last night though, is truly an experience I'll never forget.
If I hit rewind 27 years back to the year 1995, the excitement of pre-teen Val who was headed to Media Play at the South Hills Mall in Poughkeepsie to pick up the Alanis Morisette Jagged Little Pill album on cassette was no match to the excitement of 30-something year old Val last night.  The Val who went to Bethel Woods to celebrate 25 years (plus 2 bonus years, damn you COVID) of an album that was truly life changing.  Talk about feeling ALL the feels...
Jagged Little Pill 25th Anniversary Tour
I remember early 2020 when the announcement came out that Alanis would be hitting the road to celebrate 25 years of Jagged Little Pill, playing the iconic album in its entirety.  It was the topic of conversation for quite some time among one of my '90s loving friend groups, and I talked about it on the air almost daily, well until COVID came along and ruined that plan.
Fast forward to July 19, 2022, when the rescheduled tour finally hit Bethel Woods.  I posted on Instagram a countdown to the show and received so many responses from people who were also attending.  "See you there," "I can't wait for this show," "can you believe it's finally happening."  It might sound strange, but it felt like this particular concert was unitizing people from so many different parts of my life: fellow 30-somethings, younger friends, colleagues that were a bit older...all who shared a passion for Alanis, and what her music stands for.
July 19th - Bethel Woods Center for the Arts
From top to bottom, the entire night was incredible.  Garbage put on an amazing set as the opening act.  Shirley Manson has such a stage presence with her bright hair, belting out those hit Garbage songs that had the crowd singing along from the start.
I'm not sure what I was expecting when it came to Alanis, but I was mesmerized from the moment she took the stage, opening her 25 song set with 'All I Really Want.'  I noticed from the very beginning something pretty unique about Alanis; that her voice was so powerful she pulled the microphone away from her face quite often, and it still rang through the speakers, booming out into the pavilion, onto the lawn, and what sounded like miles in every direction.
She barely took a moment to breathe between songs, one after the next for 21 straight before a short break and a four song encore.  One of my favorite moments of the night was during the tribute to Taylor Hawkins during 'Ironic' where she showed clips of them from 1995 when he was part of her live band touring for Jagged Little Pill.  Taylor joined the Foo Fighters two years later in 1997.
An Impactful Concert Experience
Music is obviously a big part of my world; my work revolves around it, and even outside of work, it is my biggest hobby and interest.  I always get comments from family and friends..."another concert Val?!" - yes, another one, and probably another few after that, and once those are done, I'll start mapping out the next ones.  There's nothing that beats a live music experience, especially seeing an artist for the very first time. I feel so fortunate to have been able to experience the incredibly talented Alanis Morissette and celebrate her 20+ year career of bringing people together over amazing music.  Thank You....Alanis.
7 Places to Eat Near Bethel Woods
If you're headed to Bethel Woods for a show, there are some great local spots to stop for a bite to eat while soaking in the local vibe.
Cinnamon Churros to Sweeten Up Bethel