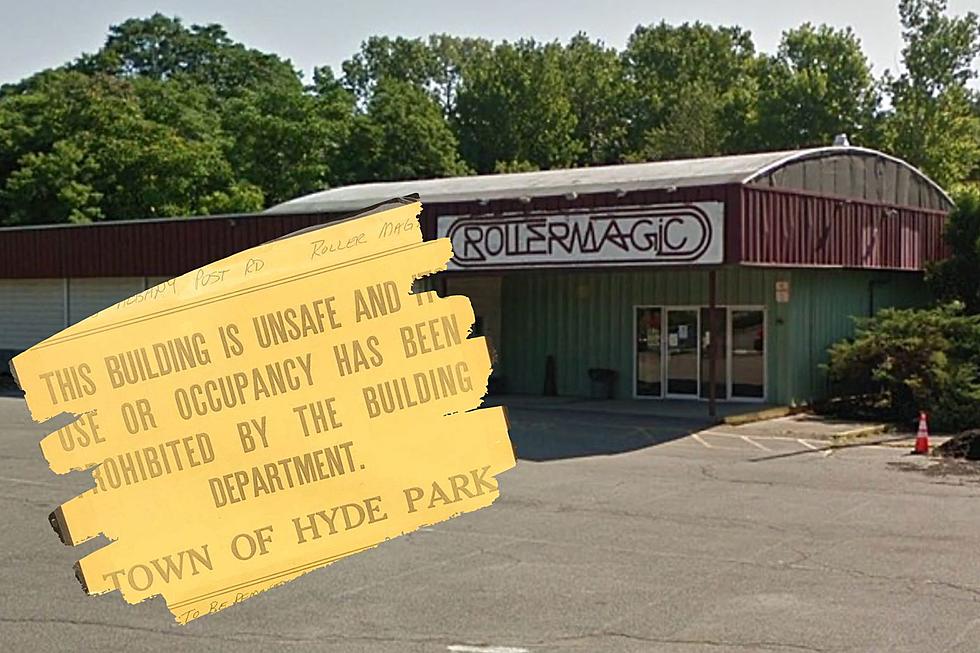 Condemned? Rumors Swirl About Safety of Dutchess County Skating Rink
G. Leggiere, Google Maps, canva
UPDATED: As of 2:30pm on Wednesday 7.26, Roller Magic has posted on their Facebook page that they will reopen on Friday 7.28.
Community groups of the Hudson Valley have been swirling with comments and concern about the status of a local skating facility after rumors of it being condemned. Several former employees, as well as recent customers have expressed concerns about the long-standing Dutchess County attraction.
Hyde Park Roller Magic Closed?
Located at 4178 Albany Post Road (Route 9), right next to the Everready Diner, Hyde Park Roller Magic has been a right of passage for kids of the Hudson Valley for years. From birthday parties, to school trips and camp visits, it is a part of the nostalgia of growing up in the area.
On Thursday July 21st, a number of posts began circulating on Facebook in several different community groups regarding Hyde Park Roller Magic.  An image of a bright yellow sign indicating that the facility has been deemed 'unsafe' with 'use or occupancy prohibited' was shared numerous times, with hundreds of comments, shares, and Facebook reactions.
The sign was rumored to have been removed from the doors of the rink.
Almost simultaneously, Hyde Park Roller Magic shared a message on Facebook the very same day indicating that they would be 'closed for the weekend. Check back for updates.'
That post also generated a number of comments, but as of today, Hyde Park Roller Magic has limited who can comment on the post, and also hidden all comments from public viewing.
Staff Turnover and Building Safety Concerns at Skating Rink
While we have submitted a formal Freedom of Information Request to the Town of Hyde Park for the building inspector records regarding the status of the rink, several former employees have share information about questionable conditions.
A former employee (who wishes to remain anonymous) shared that she worked at the rink as recently as June 2023, indicating that there were a number of unsafe conditions including mold in the ceiling tiles due to leaks, unusable restrooms, and warped surfaces on the skating rink surface itself.
Several others echoed the same concerns publicly in the Bad Moms Hudson Valley Facebook group, as well as the Dutchess County Moms Facebook group, with many commenting about much needed upgrades inside the facility. Others asked about the status of a recent Groupon deal for skating or what would happen to birthday parties that had already been booked for future dates.
We are awaiting comment from Hyde Park Roller Magic and the Town of Hyde Park as this story continues to develop.
Plan an Unforgettable Trip to Hyde Park, New York
Whenever I have out-of-town guests, these are some of my go-to spots to entertain in Hyde Park, New York.
Take This Fascinating History Crawl Through Hyde Park, NY
Hyde Park, NY is located in Dutchess County, NY. It is the home to several prominent figures that played a role in how the world was once formed. Even though these members of society have passed on, their stories and legacies continue in our area.
I have had the chance to visit these historical sites and will always remember what each one meant to me, what I learned on the tours and how guests can continue to visit in 2023.