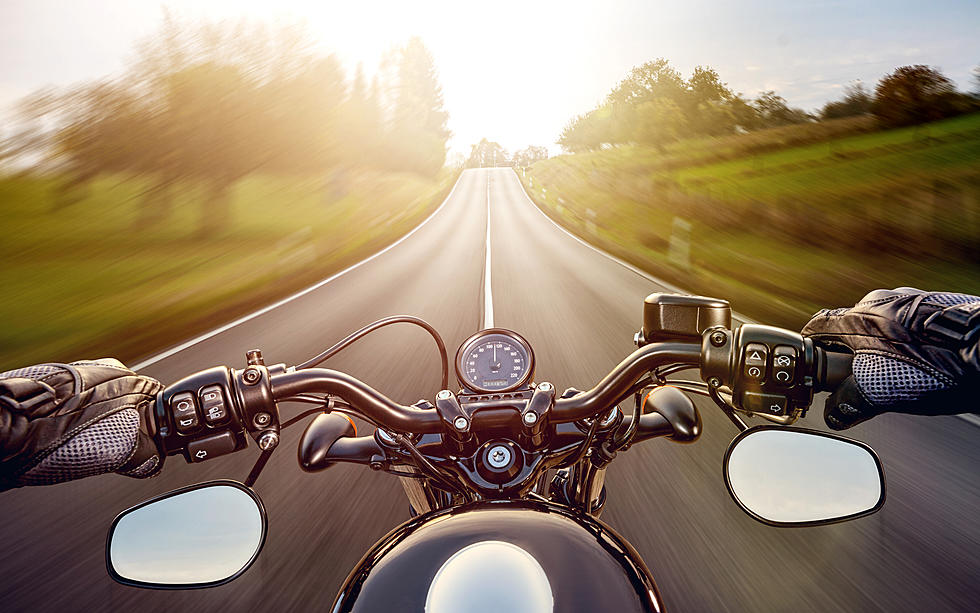 Middletown Man to Ride Motorcycle Across North America
VR19
Once in a while, you hear about some pretty amazing stories, today is one of those days. Recently a local man from Middletown began his journey to travel across and around the entire continent of North America.

To even take on such a task an incredible task is an incredible accomplishment by itself, but this individual is also taking this journey for a cause. That cause would be raising awareness for domestic violence.
Deep Dive on the Continental Journey
The local man who has embarked on this journey was identified as Eric Egeland of Middletown. Mr. Edeland and is the Vice President and COO of Capacity Marketing. In an article from Spectrum News, it was stated that this one-man journey has been a bucket list item for Mr. Edeland for quite some time but it has taken on an even greater meaning as he is also raising awareness and collecting donations for victims of domestic violence.
Edeland officially began his journey yesterday leaving from Newburgh and the beginning portion of this journey will take up North into Canada. Once in Canada, Edeland will begin traveling westward, in fact, he will make his way through five different Canadian provinces. Those provinces are Ontario, Manitoba, Saskatchewan, Alberta, and British Columbia.
After traveling through Canada, Edeland will reenter the US through Seattle, Washington, and then begin his trip back across America traveling through the midwest and ultimately bringing his journey to an end when he arrives back in New York, in Goshen.
As one can imagine, a venture like this requires great amounts of planning, every detail from the potential for weather or injury, down to stopping for gas has already been accounted for. The Community Foundation of Orange and Sullivan also provided information on this venture and Edeland stated he'd be traveling "300 miles per day". In total, the entire journey round trip has been estimated to be 7,488 miles long.
Statistics on Domestic Violence
Everyone knows that domestic violence is an incredibly serious issue and there are plenty of numbers to show it. The Spectrum article cited information from the National Coalition of Domestic Violence which stated that "31% of New York women and 29% of men experience issues with intimate partners."
In addition, the National Network to End Domestic Violence conducted its own survey on domestic violence programs in the state of New York in 2022 and they found that...
the programs housed 5,600 victims of domestic violence, and 3,400 victims that received other services, such as legal help, transportation and mental health work. Domestic violence hotlines were contacted more than 1,500 times...
The surveys also showed that a number of requests could not be fulfilled by these different services due to a lack of funding. This is where the other important portion of Mr. Edeland's journey comes into play. Throughout this journey, Mr. Edeland has been raising awareness and collecting donations for the victims of domestic violence. Donations will be going towards Fearless!, a Hudson Valley-based nonprofit organization that helps victims of domestic violence and human trafficking.
In the article from Spectrum, it was stated that $10,000 had already been donated in anticipation of the epic ride. Edeland is of the belief that as he progresses through this journey, he'll be able to acquire even more donations as well as continue to spread awareness by talking with people in person. One final important detail, the total mileage that Edeland will rack up on his bike is not a coincidence. The entire journey covers 7,448 miles which is also the number of people Fearless helped in 2022.
Town of Chester Police Officers Get in On 'First Day' Fun
19 Remarkable Movie Theaters in the Hudson Valley
After the lull caused by the pandemic, many big blockbusters are set to hit theaters in 2022, and these Hudson Valley cinemas are ready to take your ticket!
Sneak Peek at Highly Anticipated Hudson Valley Museum
A New Museum Will Open In The Catskills Featuring Hollywood's Biggest Stars
The Borscht Belt Museum will open in Ulster County,NY. This allows for the history of the Borscht Belt to carry on in the Hudson Valley.
While celebrities in the past visited the Borscht Belt region, there will be more involved in the community when this museum opens in 2025.
Fran Drescher And Fellow Celebrities Will Sit On A Hudson Valley Museum Board
Fran Drescher is a celebrity that almost everyone likes. Known for her role as Fran Fine in The Nanny, the world couldn't help but laugh at her jokes, statements, and relatable interactions with other members of the show.
Fran Drescher isn't the only celebrity who will be in the Catskills.
"The museum's list of advisory board members includes Fran Drescher, Harvey Fierstein, Judd Hirsch, Robert Klein and Richard Lewis — a fitting cast for a place where some of the nation's top comedians got their start."
Have You Ever Heard Of The Borscht Belt?
"For generations of Jews in the New York metropolitan area, there was no doubt about the location of those "mountains." Less than 100 miles from the cramped, sweltering tenements of Manhattan's Lower East Side was a lush patchwork of forests, farms and bustling rural towns that hosted a summertime population of nearly a million urban strivers hungry for the clean air, fresh food and familiar camaraderie that even a garment worker or cab driver could afford."
Spending the summer in the Catskills sounds ideal.
"From the turn of the 20th century to the 1970s, more than 1,000 hotels, bungalow colonies, summer camps and boarding houses dotted the Catskill Mountains of southern New York. At first they came by train, and later, by bus and car along The Quickway, now known as Route 17."
Some may know this area or region to be called Solomon County, Jewish Alps or The Mountains. The Borscht Belt was also another term that most people remember the most.
How Can You Visit The Borscht Belt Museum In Ellenville, NY?
I took a day trip to the Borscht Belt Museum in Ellenville, NY. Upon arrival, I was greeted by a humorous sign stating "Come in and schmooze, free admission".
When I entered the museum, I was greeted by a volunteer. I was able to walk around and see memorabilia from the different resorts of the Borscht Belt region and community.
I was also told that this museum is a pop up for now, they will continue to change the set up as well. 2025 marks the year that the Borscht Belt Museum will officially open.