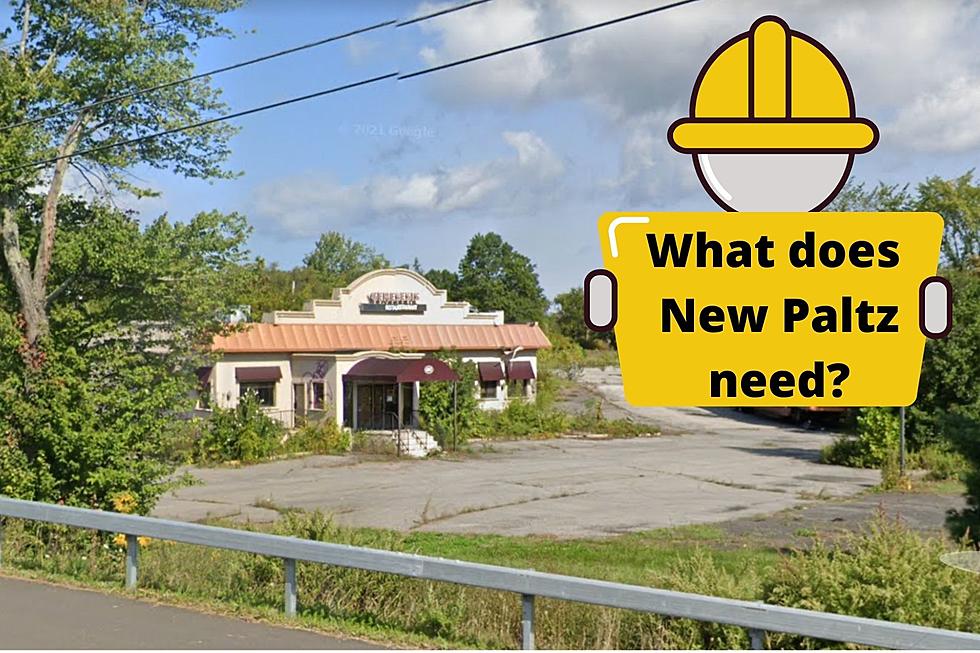 Suggestions: What Should New Paltz Put in This Prime Location?
Zillow, iconsy for Canva
It's been an eyesore in New Paltz for quite some time now, especially if you get off of I-87, make the left onto Route 299, and it's one of the first things you see...
401 Main Street, aka the former Genesis Diner, aka the old China Buffet, that's what I remember it being when I was an undergraduate student at SUNY New Paltz.  These days it's a run-down building with lots of graffiti and a giant hole in the roof around the back.
The location is currently on the market for $1,750,000 according to realtor.com and currently shows multiple listings.  Property details indicate that the location is a highly visible corner lot, with the New York State Department Transportation traffic count at 18,100 per day.  "Parking is more than ample.  The building is being torn down and this will be a clean and level development site."
Zillow shows a similar listing, with the site having been on the market for 192 days with the same price tag, 1.8 acres, and designated as "a redevelopment parcel.  A home of restaurants for many years."
So now that we know the logistics of the price, passers-by, and the parking lot situation, what's the ideal new tenant for this property?
Honestly, as someone who has spent a majority of her life in the New Paltz area, I have two ideas for this prime location:
1.  Something FUN, like an attraction of some sort. Bowling, ax throwing, even an arcade or laser tag spot would be awesome, right?
2.  A store that isn't a supermarket, boutique, or specialty shop.  Don't get me wrong, I love the New Paltz feel, and all the unique finds you stumble upon when you walk through town, but, as someone who lived here for a long time, if you need a pillow or a pair of socks, you likely have to travel 20-30 minutes to get them.
Any other thoughts, in your dream New Paltz world, what occupies 401 Main Street in the future?
A Tour of New Paltz
Some of our favorite and not so favorite things about New Paltz, New York.
Don't Miss These New Paltz Breakfast Hotspots
When it comes to breakfast in New Paltz, there's no shortage of options to get your grub on.