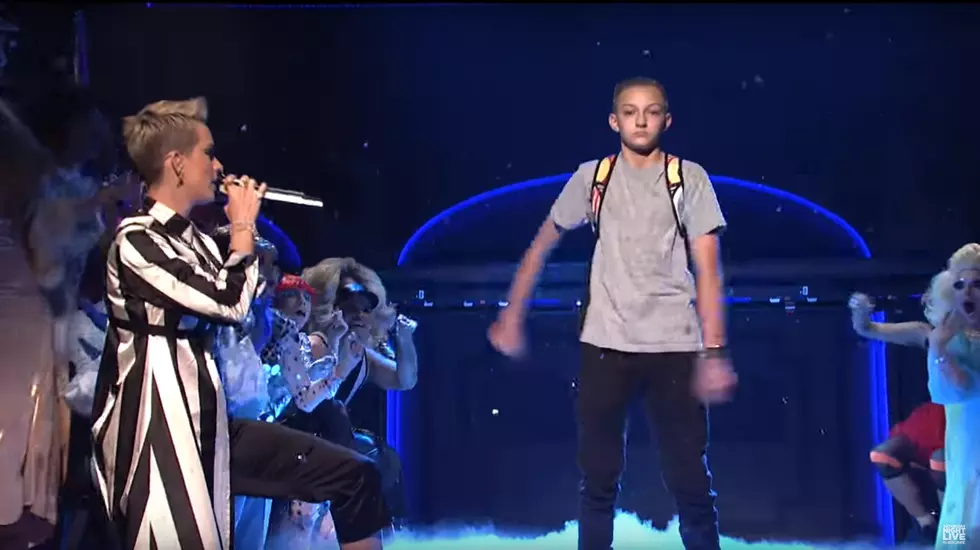 Nick Calls Out Backpack Kid
SNL / YouTube.com Screenshot
If you missed the season finale of Saturday Night Live over the weekend then you probably missed the newest dancing sensation, known on the internet as "backpack kid."
Please let me know when this kid's fifteen minutes of fame are up. Fifteen year old, Russell Horning took the world by storm over the weekend when he performed his signature dance move on stage with Katy Perry on SNL. Apparently, Katy Perry discovered him on Instagram as she called him out but his handle, "i_got_barzz".
Call me crazy I just think there are so many talented kids out there. Right now at this moment, there are 15 year old kids who are studying and getting good grades to prep for their future college careers. There are kids who are working day and night on their craft whether it be acting, dancing or music. Again, these kids could be working towards a scholarship goal.
I'm sure the number of kids that need a break are vast. I don't want to sound like a curmudgeon or anything but with all the kids who need hand out there Katy Perry chose to highlight this kid? When I was a kid we had talent shows to show off everyone's talents. I remember there was a girl who did ballet and she took classes every day. It was truly poetry in motion. If the class clown got up and started waving his arms we'd all have a laugh as he'd be quickly escorted off the stage.
Maybe it's just me and I'm not a dancing expert but it looks like he's just flailing his arms around at different speeds.
I can't sit idly by and watch the talent bar of our youth sink lower and lower.