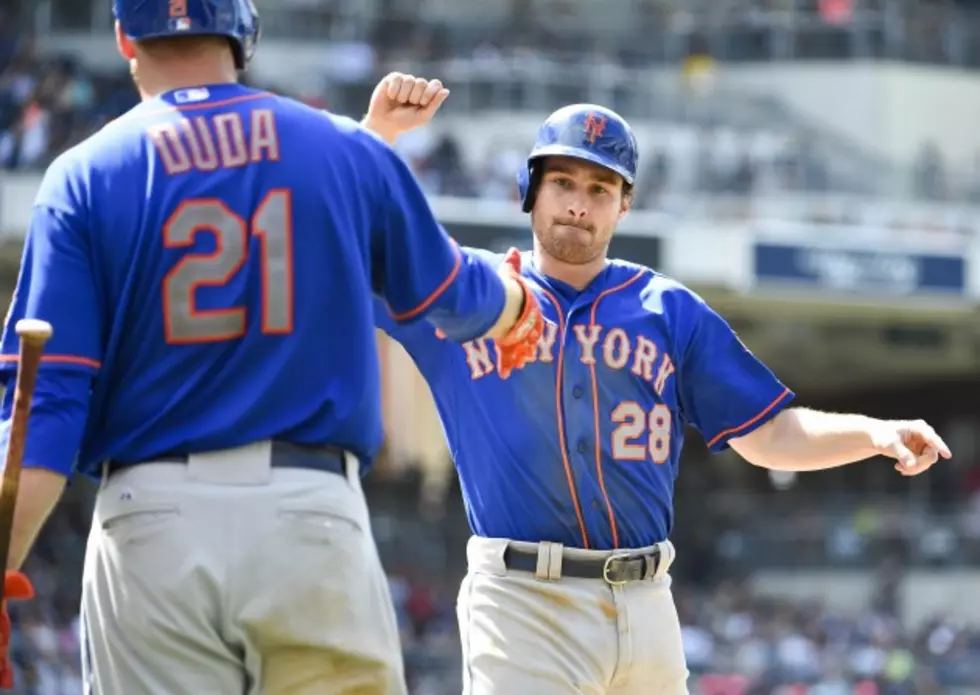 Random Mets Monday: Should the Mets trade Daniel Murphy? [POLL]
Denis Poroy, Getty Images
There's been a ton of talk lately about the Mets being buyers or sellers at the trade deadline. Lots of writers are speculating they might get calls on multiple players, from Bartolo Colon to Daniel Murphy. But SHOULD they trade those players? Let's take a look at Daniel Murphy's stats this year.
First, let me be honest. I like Daniel. Seems like a good dude. He's always fighting at the plate, and appears to be the consummate professional. He's hitting for a .298 batting average right now, and was holding the middle of the batting order together when everyone else seemed to be going through monolithic hitting slumps.
However, BA isn't always the best indicator of production and when you dive into the advanced stats, you notice that there's people that are performing as well as him, and maybe better.
Let's check out his offensive Wins Over Replacement (WAR). He's sitting at 1.7 right now. Better than average player at the plate, but his OPS (On base + slugging percentage) has been consistently mid .700's for the past 3 seasons. Below average power (we kinda knew that). He's got 25 doubles right now, which is dead consistent with this last 2 seasons.
Essentially, we know who Daniel is as a hitter.
Defensively, he's LIGHT YEARS better than he used to be. However, he's still a -0.5 WAR player. He doesn't have the best range, and sometimes routine plays get a little "iffy". At this point, I would think that Murph's defensive abilities have topped out. So, not only do we know what we're getting, but in the next few years we can expect as decline as he gets older.
It's been estimated that Murphy can expect a salary of about $9 million, based on his production and time in the majors. If the Mets salary stays static, that represents more than 10% of the rosters salary.
Especially when you consider that when you consider that universal whipping boy Ruben Tejada has a better OBP and Lucas Duda is becoming more and more important than Daniel. Double the home runs, almost the same doubles, more RBI's and and OPS almost 100 points higher.
So, if Murph isn't on the roster next year, who can we expect at 2b? Well, the organization has been talking Wilmer Flores up for what seems like years, and he's currently in the midst of a 21 game hitting streak in AAA Las Vegas. He's NOT a shortstop, and the other corner positions are spoken for.
Matt Reynolds was one of GM Sandy Aldersons first draft picks, and he's made his way up to Las Vegas this year, with a hitting profile that's VERY similar to Murphy. Slap hitter, little lucky when hitting, and a much more natural fielder. Reynolds is hitting .333 in the Pacific Coast League so far this season.
HOWEVER, I firmly believe that Dilson Herrera, currently in Double A Binghamton, is the second baseman of the future for the Mets. He's 4.7 years younger than the average age, hitting .349 since his promotion to Binghamton with a .948 OPS. THAT'S the type of player you commit to long term.
So, at the end of all that, I still like Daniel Murphy as a player. However, with salary constraints being what they are, smart teams can't pay players like Daniel Murphy a significant portion of money, especially if they have suitable replacements on the horizon, loads of power pitchers in the system and other needs to fill on the roster in the extreme near future (LEFT FIELD).
If you get the right deal, you HAVE to trade Daniel Murphy and wish him well on his new team. Without a doubt.
What do you think? Weigh in in the poll.