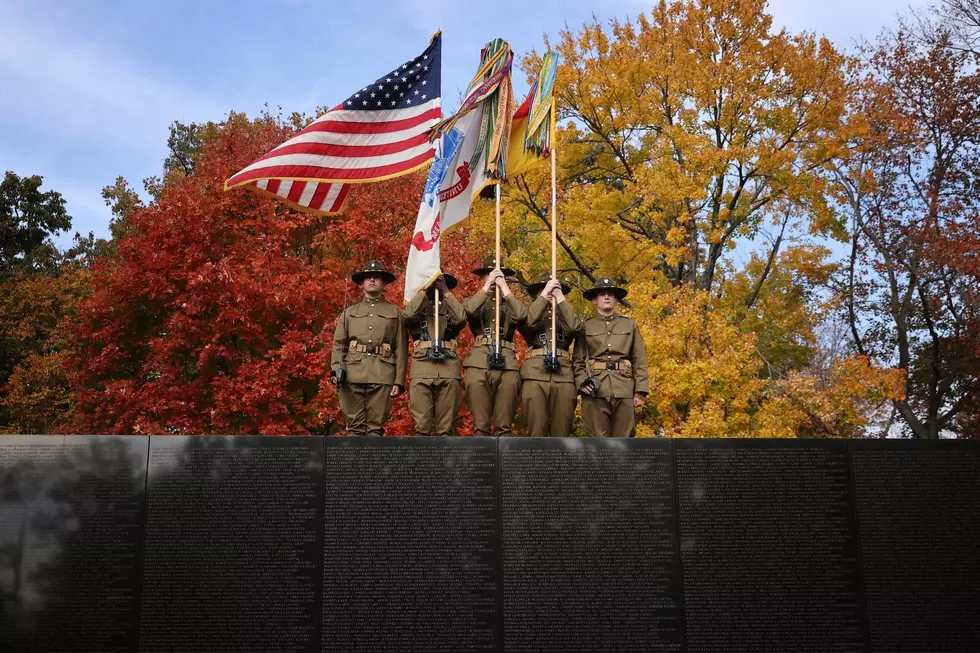 Sullivan County's Veterans Day Community Calendar 2023
Getty Images/Chip Somodevilla
This Saturday, November 11th, is Veteran's Day. This weekend, communities across the nation, will be honoring the veterans of the United States Armed Forces. The Hudson Valley in particular will be doing their part to celebrate the brave men and women who have served for their country. Sullivan County, for example, will be quite busy with a plethora of events.
Sullivan County Veterans Day Events 2023
NOTE: This list reflects all the ceremonies the County of Sullivan has been told about as of November 8, 2023.
MONTICELLO:  Friday, November 10 – 10 a.m. – Countywide Ceremony, Sullivan County Government Center (inside the lobby), Monticello. State Police and Sheriff's Office Honor Guard, local first responders, public invited.
HURLEYVILLE: Friday, November 10 - 2 p.m. – Service at Morningside Park on County Route 52 (Brickman Road) in Hurleyville. All are invited.
BETHEL:  Saturday, November 11 – 11 a.m. – Sgt. Andrew Brucher VFW Post 5499 will be conducting Veterans Day Services at the Veterans Park (Bethel Town Square) on Route 55 in Kauneonga Lake. All veterans and the public are invited. Please arrive by 10:45 a.m.
ELDRED:  Saturday, November 11 – 11 a.m. – The Tusten-Highland-Lumberland VFW Post 6427 and the Sylvan-Liebla American Legion Post 1363 will hold a Veterans Day service at Heroes Park in Eldred, in honor of all veterans.  Following the service, refreshments will be served, and they will have their annual raffle drawing.
GRAHAMSVILLE: Saturday, November 11 – 11 a.m. – The Grahamsville Rural Cemetery will host a Flag-Raising Ceremony, followed by a ceremony at the Neversink Town Hall, both on Route 55 in Grahamsville.
LIBERTY: Saturday, November 11 - 5-7 p.m. – Spaghetti and meatballs dinner at the Liberty Elks Lodge 1545 on Darbee Lane in Liberty. Veterans eat free, all others $8.
LONG EDDY: Saturday, November 11 – 11 a.m. – The Allan Milk Memorial VFW Post 7276 and Auxiliary will honor all who served with a luncheon, basket raffle, 50/50 and t-shirts, hosted at the Long Eddy Firehouse, 4 Church Street, Long Eddy.
SUMMITVILLE: Saturday, November 11 – 9 a.m. – Summitville Firehouse, Route 209, Summitville, will host a service conducted by the Edward M. Maier Memorial VFW Post 4947.
Take a Tour of Sullivan County, NY's Newest Underground Salt Cave
Crystal Connection is a 1890's antique, Methodist church located in Sullivan County, NY. This is a crystal lover's dream come true.
It's known for being
"One of the largest Crystal & Mineral destinations on the Northeast."
While this may be a place that some people gather often, others can refer to it as a hidden gem in the Hudson Valley. Crystal Connection can also be described as
"a sacred space & crystal haven"
I have never experienced anything similar to Crystal Connection before. The amount of crystals, crystal jewelry, singing bowls, sage and more are fascinating. Crystal Connection also hosts different events and fairs throughout the year.
Take a tour through Crystal Connection's newest underground salt cave experience.
Gallery Credit: Allison Kay, Crystal Connection, YouTube
Large Waterfront Retreat in Sullivan County
Built in 2004 this
Sullivan County home in Monticello, New York
is the perfect retreat for a family or even as a corporate getaway. With 5 bedrooms, and 7 baths it has room for many plus it sits on 5 plus acres of inviting waterfront land. Peek inside and see what it would be like to live in this lakefront retreat just minutes from Resorts World Catskill and Bethel Woods Center for the Arts.
Gallery Credit: Paty Quyn