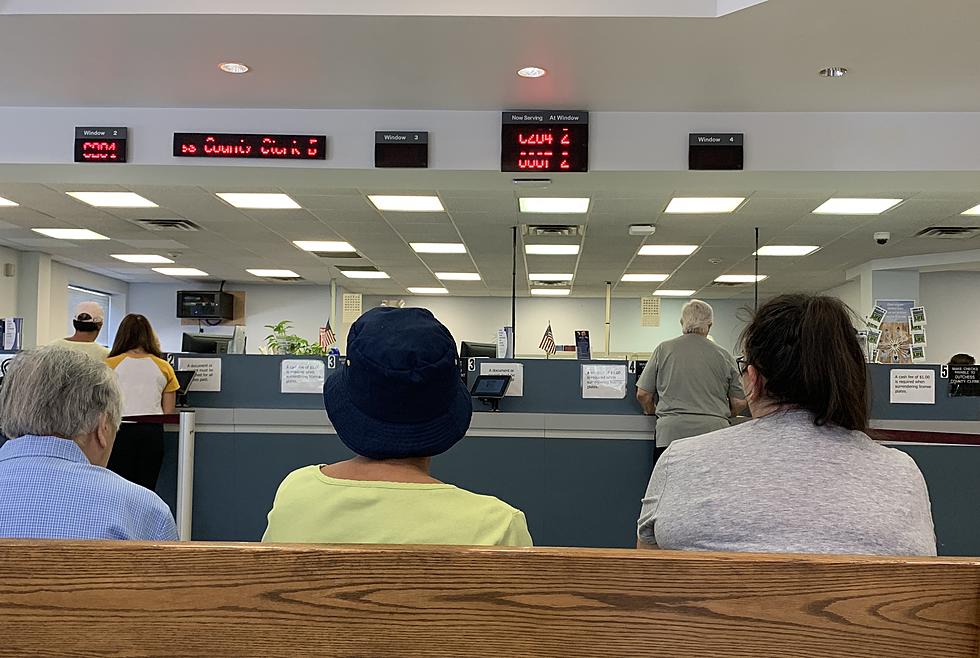 5 Surprising Things I Learned Waiting at the Hudson Valley DMV
A. Boris
The morning I spent over two hours at the local DMV was educational, to say the least.
No one likes going to the DMV, but sometimes it's unavoidable. My license is expiring soon, so I needed to upgrade it to a new, Real ID to use at the airport.  Unfortunately, that meant that I had to get to the DMV in person to prove my identity and pose for a new photo.
I decided to use the time wisely and learn all I could about what really happens at the DMV. At the end of my two-hour experience, I came away with five important observations.
Don't go to the DMV on Monday mornings
Hoping to get over with quickly, I gathered my paperwork and headed down to the Wappingers Falls DMV on Monday at 10:30am. After opening the door I was greeted by a sea of people waiting to be called. All of the seats were filled so people were sitting on the floor. There were even customers sprawled out in the hallway. Safe to say, this was not going to be my day to wait at the DMV. I turned around, went home and came back on Tuesday.
It's completely pointless to argue with the DMV
If you're at the DMV and they tell you that you need your social security card, you're going to have to present your social security card. No amount of debate or argument is going to magically make them say, "Ok, fine. We'll make an exception for you." Getting angry and trying to explain why you don't need to pay a fee or provide paperwork is a complete waste of everyone's time. While waiting on Tuesday, an old man showed up for an enhanced ID without any sort of identification. The instructions clearly spelled out the proofs of address and identity you need to bring with you, but he just ignored all of that and showed up anyway. After being told he had to come back he spit on the floor, banged on the counter and argued with the employee. This did nothing but make him look like a fool and waste everyone's time. Although, I will admit it was quite entertaining.
The long lines are NOT the fault of DMV workers
Employees of the DMV get a bad rap. They're always portrayed as slow and lazy, torturing customers by purposefully making them wait in long lines. A popular animated film even portrayed DMV workers as sloths, moving and talking so painfully slow that it was funny. However, while observing two hours of DMV transactions on Tuesday, it was actually the customers that were the slow ones. Most customers that I saw were terribly unprepared and confused about their DMV transactions. Forms weren't filled out ahead of time, paperwork was missing and instructions mailed to them were just completely ignored. All of this lead to people having to take extra time at the window, forcing everyone to wait longer.
The long lines ARE the fault of DMV workers
I know I just spent the last paragraph blaming unprepared customers for the long lines, but you know what? The workers aren't completely innocent either. After finally being called up to get my license after two hours I was greeted by a very sweet, older woman who was incredibly friendly; maybe a little too friendly. While holding onto my paperwork she froze in place to tell me all about her son, her grandchildren, the screen door on her porch, the family dog, shopping at Big Lots and a bunch of other things that I don't remember because I was screaming inside my brain for her to hurry up and get me the hell out of there. I felt guilty not letting her talk because she was so sweet, but after waiting so long to be seen and knowing that there were dozens of people waiting behind me, it was terribly stressful having to make polite conversation instead of actually getting my license renewed.
Show up prepared (and not just with paperwork)
When I say to be prepared, I don't just mean that you should make sure you have all of your paperwork. I mean you need to prepare yourself to wait. Bring a coffee, a snack, make sure your phone is charged, pack a book... whatever you think you'll need for a couple of hours in the waiting room. Most importantly; use the bathroom. With the wacky numbering system at the DMV, you'll never know how long it will be until you're called up to the window. And if you're in the bathroom when your number comes up, they'll just skip over you without any hesitation.
In October of 2020 old New York State licenses will no longer be valid for air travel, so the DMV is only going to get more crowded as people wait until the last minute to get their new IDs. Plan ahead, take a deep breath and be ready to wait. Going to the DMV sucks, but it's something all of us have to do eventually.
Read more:
BONUS VIDEO