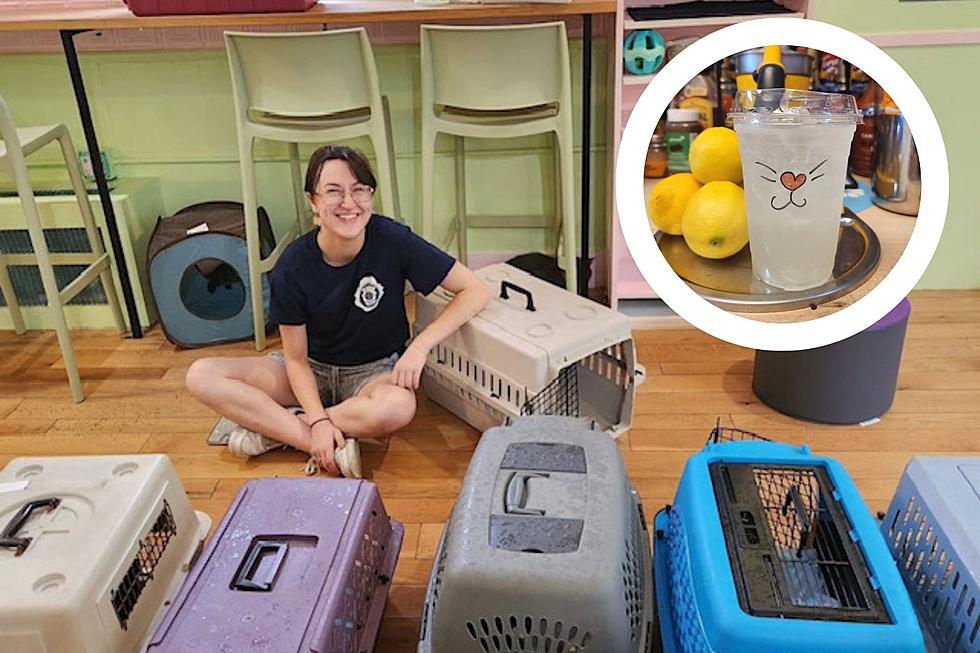 First Look at New Cat Café in New Paltz, NY
Canva, Instagram, Beans Cat Café
More than ever, I have been seeing things about cats. If you know me, I openly admit that I am a cat lady and enjoy spending my time with them.
I'm noticing that more people are having pets, referring to them as their fur children and bond with other animal lovers over their love for these beautiful beings.
Recently, I came across the largest cat "living it's best life" at a Hudson Valley farm. Cat lovers can visit that farm and take a trip to Greene County to see cat statues on display that were created by local artists.
What if you found out that not only one cat café, but two of them are now open in the Hudson Valley? I was excited when I heard the good news.
Have You Been To The Hudson Valley's Cat Cafes?
Beans Cat Café opened their first location in Beacon, NY. They use local ingredients and partnered with Mad Batters Pastries for their baked goods. Beans Cat Café has HEPA air filters to keep the facility clean. Those who visit will experience two sides of the cafe, they can spend time within the actual café and then head on over to the fun side, where all the kitties are. Their cat café can be described as,
"A cat cafe is a space where people come together with adoptable shelter cats."
Jessica and Justin Strika are the owners and operators of this loving cat cafe, they have adopted over 350 cats so far, which warms my heart. The adoptable cats in Beacon, NY are from HVARS, Hudson Valley Animal Rescue & Sanctuary.
Did You Know That A Second Cat Cafe Opened In Ulster County, NY?
 

 

 

View this post on Instagram

 

The purr-fect news was made on social media on Instagram from Beans Cat Cafe.
"The cats (and the staff) have arrived here at Mew Paltz"

 

"Fire inspection and building permit inspection and then we're ready to open!"
Those who see the image, can feel the love and excitement behind the picture of the newest location of Beans Cat Cafe. After settling in, Beans Cat Cafe posted pictures of adoptable cats available at their newest location in Ulster County, NY.
Here's The First Look At The New Cat Cafe In New Paltz, NY
View this post on Instagram
Beans Cat Cafe opened in New Paltz, NY. Pictures of their beautiful, fur babies who are available for adoption are also on their social media page on Instagram. Casper and Muppet are the newest celebrities of New Paltz, NY. There is an admission price to enter the cat lounge at only $7 per person for 30 minutes. Time spent with furry friends can never have a price on it, in my eyes.
Beans Cat Cafe Will Celebrate Their Grand Opening In New Paltz, NY
View this post on Instagram

On Instagram, Beans Cat Cafe shared information about their grand opening.
"It's official! We are ready to go for our Grand Opening this Friday! You can now book online thru our website (linked in bio). NOTE Please be careful to select the desired location, we cannot guarantee availability for appointments scheduled outside of booked location. See yall this weekend!"
Beans Cat Cafe will have their grand opening of their newest cat cafe on Friday, July 14, 2023 in New Paltz, NY.
Beans Cat Cafe has cute, cat themed merchandise online and are always accepting donations.
Have you ever been to a cat cafe before? Are you going to visit one of these two locations? Let me know below, meow.
Beans Cat Cafe
325 Main St, Beacon, NY 12508
11 Church St, New Paltz, NY 12561
5 Must See Scenic Drives In The Hudson Valley
When was the last time that you took the scenic route or the back road? There's something so peaceful about taking in the views of the beautiful farmland and the smells of fresh grass with the windows down.
The next time that you're out for a drive, take one of these scenic routes to capture the beauty of the area that we get to call home.
.
8 Beaches To Take Your Dog This Summer
There are so many beaches around Western New York, and plenty of these areas love dogs! Based on your votes, these are the best beaches to take your dog this summer.